At Alpaca, we strive to empower businesses of all sizes by providing a modern API-first crypto and stock investing infrastructure. In order to offer you the best solutions, we are launching three thoughtfully designed Broker API plans: Essential, Core, and Enterprise. These plans are flexible and scalable, allowing you to select what is best for your product and your business. Your success is our success, so when you're ready to launch your app, we've got a plan for you.
Flexible Broker API Plans That Work for You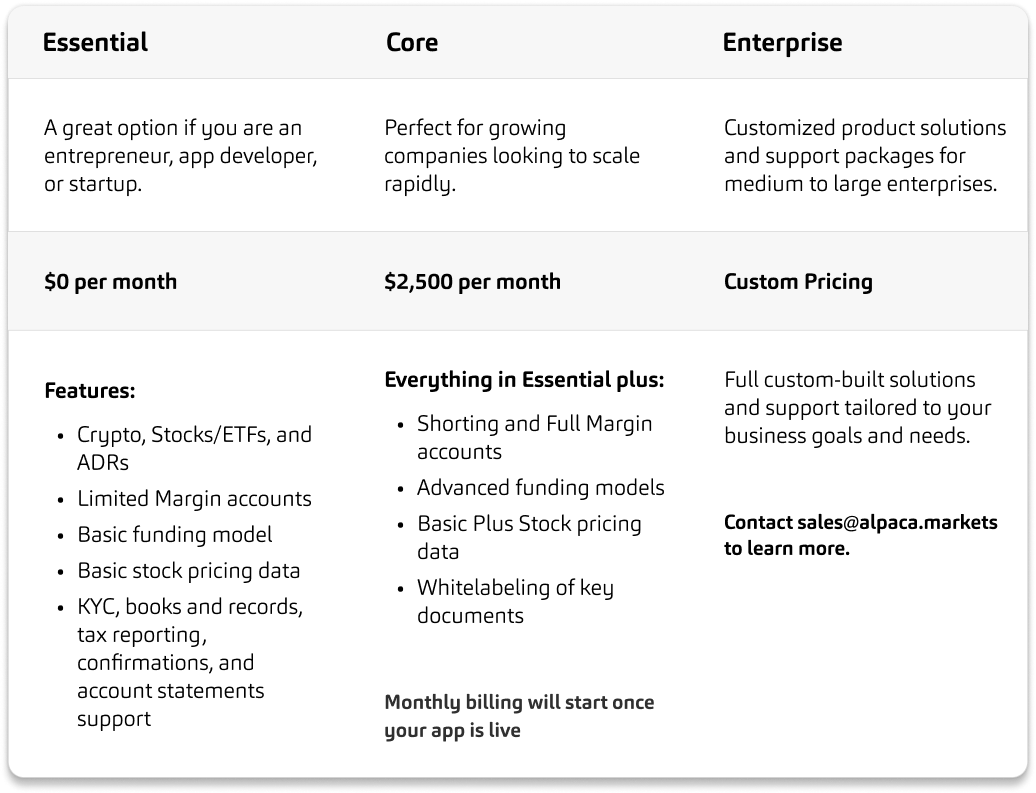 Whether you're an app developer, tech entrepreneur, rapidly scaling start-up, or a medium to large enterprise, there's a plan for you. We aim to offer you the right tools, products, and platform to help you succeed.
Essential Plan
Starting at $0 per month

The Essential plan is a great option if you are an app developer, nascent start-up, or tech entrepreneur looking to build, test, and launch your app. Using our Broker API dashboard, you can safely experiment with our APIs while staying compliant with rules and regulations.

If you aren't sure which plan to select, you will be automatically subscribed to the Essential plan once you're ready to launch your app.
Key Features:

Enable crypto and stock trading with access to ETFs, ADRs, extended hours, and more
Drive revenue with access to limited margin accounts for customers
Access standard KYC, books and records, tax reporting, trade confirmation, and account statements support
Market Data Basic plan: real-time IEX and historical SIP data with up to 200 requests/min
Core Plan
Starting at $2,500 per month*
Ready to scale to the next level or need more advanced functionality to support your requirements? Our Core plan is designed to help high-growth companies and start-ups rapidly scale their platforms or services with expanded solutions, in addition to features included in the Essential plan.
Key Features include everything in the Essential plan, plus:
Unlock access to short-selling and full margin accounts for your customers
Advanced funding models for a better customer experience
Create a consistent brand with white-labeling of all key documents
Leverage our Customer Success team to ensure ongoing success
Market Data Basic Plus plan: higher rate limit, increased number of concurrent connections, and no limits to the number of symbols that can be streamed
*Monthly billing will not begin until your app or service is live.
Additional Upgrades Available
We also provide the flexibility to add additional product upgrades to the Essential and Core plans, which may incur additional fees. Features such as paper trading accounts, increased rate limits, KYC as a Service, whitelabeled documents, and more can be added on an a la carte basis.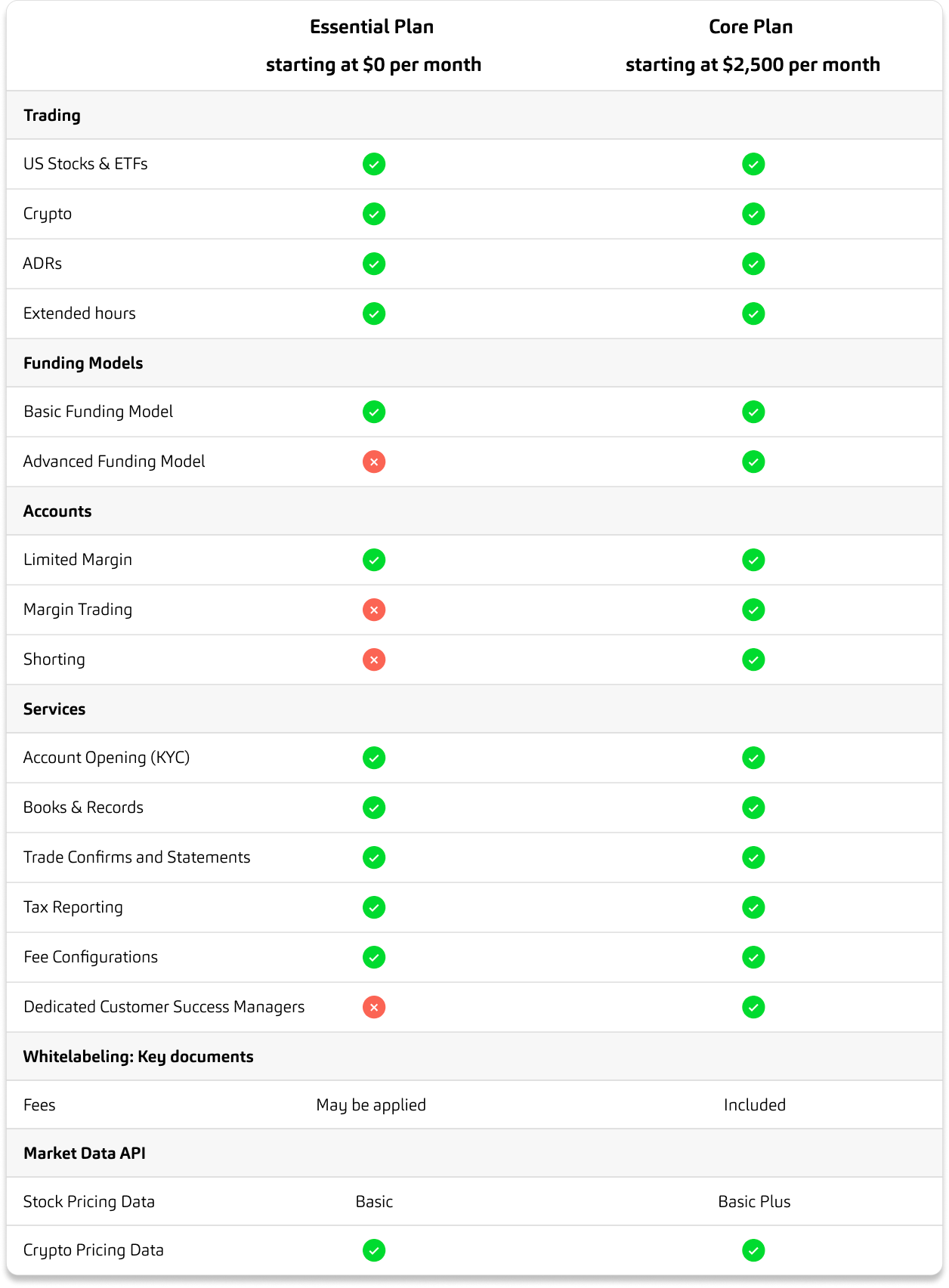 Enterprise Plan
Alpaca offers a wide range of customized product features and support packages for medium to large enterprises. Access our full suite of Broker API solutions that are tailor-made for you by our dedicated team of experts.
With a modern technology and operations infrastructure, we enable you to build products that are flexible, reliable, and highly performant at scale. This means less time spent on maintenance and more time focusing on your goals, product, customers, and growth.
Key Features:
Access a complete suite of Broker API product features
Implement custom-built plans hand-picked for you
Streamline Instant account opening with continuous real-time fraud and AML recording
Obtain full back-office operations and compliance support
Secure a comprehensive and flexible support model with dedicated resources
To learn more about our Enterprise plan solutions and pricing, get in touch with us at sales@alpaca.markets.
Professional Services
We understand that "one size does not fit all", and that each team, product, and company needs different levels of support during the integration phase. With this in mind, we offer different tiers of integration support to meet your specific needs, enabling you and your team to directly access our experts in order to move as quickly as possible.

For Existing Broker API Partners
Existing partners will not be affected by the launch of our new Broker API plans and are able to continue with their current plans until further notice.

We offer you the flexibility to choose any of the new plans (Essential, Core, and Enterprise) that best suit your product and business needs. To learn more, please contact your Customer Success Manager.

---
We understand you might have questions about our new plans. Please contact us at sales@alpaca.markets.
---
The content is for general information purposes only and is believed to be accurate but may be subject to change.
Securities brokerage services are provided by Alpaca Securities LLC ("Alpaca Securities"), member FINRA/SIPC, a wholly-owned subsidiary of AlpacaDB, Inc. Technology and services are offered by AlpacaDB, Inc.

Cryptocurrency services are made available by Alpaca Crypto LLC ("Alpaca Crypto"), a FinCEN registered money services business (NMLS # 2160858), and a wholly-owned subsidiary of AlpacaDB, Inc. Alpaca Crypto is not a member of SIPC or FINRA. Cryptocurrencies are not stocks and your cryptocurrency investments are not protected by either FDIC or SIPC. Depending on your location, cryptocurrency services may be provided by West Realm Shires Services, Inc., d/b/a FTX US (NMLS #1957771). Please see the Disclosure Library for more information.

This is not an offer, solicitation of an offer, or advice to buy or sell securities or cryptocurrencies, or open a brokerage account or cryptocurrency account in any jurisdiction where Alpaca Securities, Alpaca Crypto, or FTX US respectively, are not registered or licensed, as applicable.