Hi!
This is the 5th edition of the Alpaca Newsletter for Quants & Developers where we will update you on market & research as well as industry job openings and internships, along with Alpaca's products and community developments.
🚀Sign up for the Alpaca Newsletter here
Let us know if you have any feedback or topics you want us to cover.
(P.S. Here's our privacy notice)
---
Tweet of The Week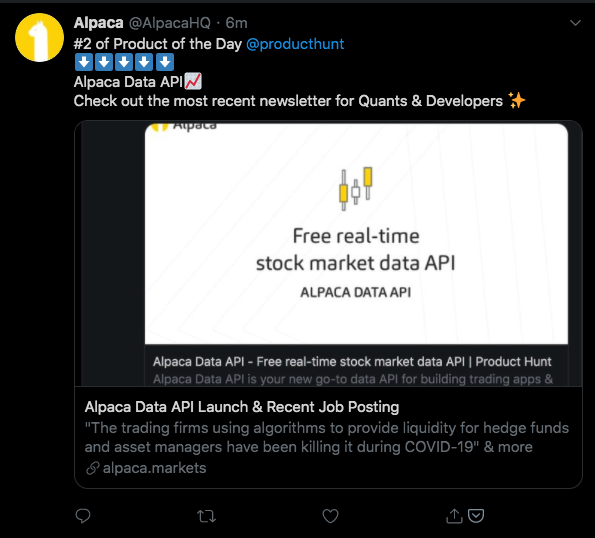 Alpaca Updates
Update on user dashboard: hotkey "/" to focus on the search bar
SDKs and packages have been updated
Go SDK [Github]
python SDK has been already released last week. C# SDK update is coming
Technical Indicator API - Some members of the community have been discussing about this topic, share your view! [Source]
Market News
Research Updates
Calculate strike from Black Scholes delta - I have a list of deltas and their corresponding volatilities in an FX market but I want to go from delta to strike price. In this Question similar problem is being discussed [Source]
YTD Performance of Equity Factors – Update After Two Months [Source]
Forget Determinism, see Randomness in Action: How to Model Stock Prices - Geometric Brownian Motion in Python with Matplotlib [Source]
Which process is the most commonly used for modeling stock prices? - I'm thinking of writing a master's thesis about pricing options using Levy processes, but I wonder if these processes are actually used for modeling stock prices or not (and which specifically)? And if not which ones are used? [Source]
Job Updates