Wise a great way to send funds internationally. We have integrated with rails across the world to facilitate payments.
The first step is to create a funding account to which you should deposit funds in.

On the Alpaca Dashboard
Log in to the Alpaca dashboard.
Navigate to the /banking page and click on the International Transfers tab.
Click on the "Generate Funding Details"
Input your banking details that you will want to send money from and to
You should now see the funding details of the account you should send money to. You will also receive an email with the funding details.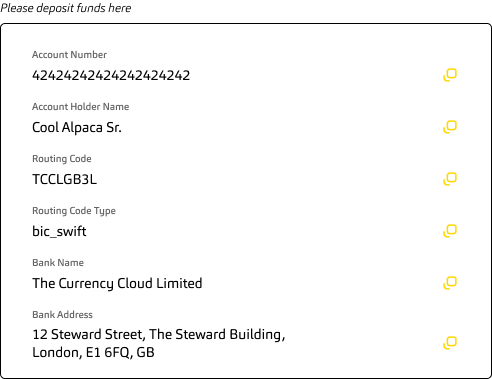 Now that we have generated the funding details we will use Wise to send the funds into that account.
Wise Instructions
Open your Wise app and navigate to the Recipients tab
Click on Add at the top right corner
Choose A business/organization
Put in the account details generated on your Alpaca Dashboard
Press Confirm
Wise provides fast cross border payment around the world and will be able to send the funds in one or two business days. As soon as we get confirmation from our payments provider that Wise sent the funds we will debit your account immediately. Alpaca charges 1.5%, or $25 - whichever is less - on incoming international deposits and withdrawals.
---
Alpaca Securities LLC ("Alpaca Securities") and Wise Payments Canada Inc. are not affiliated and neither are responsible for the liabilities of the other.
Securities brokerage services are provided by Alpaca Securities LLC ("Alpaca Securities"), member FINRA/SIPC, a wholly-owned subsidiary of AlpacaDB, Inc. Technology and services are offered by AlpacaDB, Inc.
This is not an offer, solicitation of an offer, or advice to buy or sell securities, or open a brokerage account in any jurisdiction where Alpaca is not registered (Alpaca is registered only in the United States).