As we continue to make swift product enhancements, we are fortunate to have been able to rapidly expand our network of global partners. We are excited to see new types of business models emerging that align with local regulatory frameworks in certain countries. Additionally, we are observing the rise of new partners targeting consumers who have a higher net worth in specific parts of the world. We have extensively conversed with these partners to understand how enhanced protection would help them interact better with local regulators and be able to offer more value to their end customers, particularly those with a higher net worth.
We are thrilled to introduce Excess SIPC Insurance coverage 🎉, exceeding the standard SIPC coverage threshold.  The excess coverage held by Alpaca Securities LLC provides protection for any Alpaca Securities customer up to $30 million in securities and $1 million in cash, and is covered at an aggregate limit of $150 million across all Alpaca Securities customer accounts.
Understanding the Standard SIPC Coverage
SIPC
, or the Securities Investor Protection Corporation, plays a critical role in maintaining the stability and security of the financial markets. SIPC protects against the loss of cash and securities held by a customer at a SIPC-member brokerage firm.
The limit of SIPC protection is $500,000, which includes a $250,000 limit for cash.
SIPC coverage ensures that investors' funds and securities are safeguarded up to certain limits, helping to instill confidence and trust in the financial system.
Now, what sets Excess SIPC coverage apart?
Excess SIPC coverage goes beyond the standard protection provided by SIPC. While SIPC coverage has its limits, excess SIPC coverage provides an additional layer of security by extending those limits. This means that in the unlikely event of a brokerage firm's failure, investors and clients are provided with an increased level of coverage.
Alpaca's Commitment to Offering Protection
In the financial sector, trust is paramount. By securing Excess SIPC coverage, we aim to continue fostering trust and confidence among our stakeholders and elevating the level of protection we offer.
"We recognize that each partner of ours comes with their own unique sets of preferences and priorities. This is more true to Alpaca, because we work with businesses from over 25 different countries, and they excel in figuring out how to offer the best products to their customers while understanding the local rules. Our decision to secure excess SIPC coverage emphasizes our unwavering commitment to how we can continue to grow with our partners by understanding their priorities and demands and executing them quickly." - Yoshi Yokokawa, Co-founder & CEO at Alpaca.
Benefits for Alpaca Traders and Broker API Partners
Our extensive global network of over 100 partners also stands to benefit from this initiative. The extended SIPC coverage serves as a testament to Alpaca's commitment to ensuring enhanced protection beyond the standard threshold for our partner's end-users.
For algorithmic traders who rely on Alpaca's platform, the enhanced SIPC coverage can bring a sense of reassurance to trade programmatically with bigger positions.
About Alpaca
Alpaca is a developer-first API brokerage platform that's raised over $100m in funding. Alpaca offers stock and crypto trading, real-time market data, and end-to-end brokerage infrastructure through modern APIs. Alpaca is backed by top investors in the industry globally, including Portage Ventures, Spark Capital, Tribe Capital, Social Leverage, Horizons Ventures, Unbound, Eldridge, Positive Sum, Elefund, and Y Combinator.
---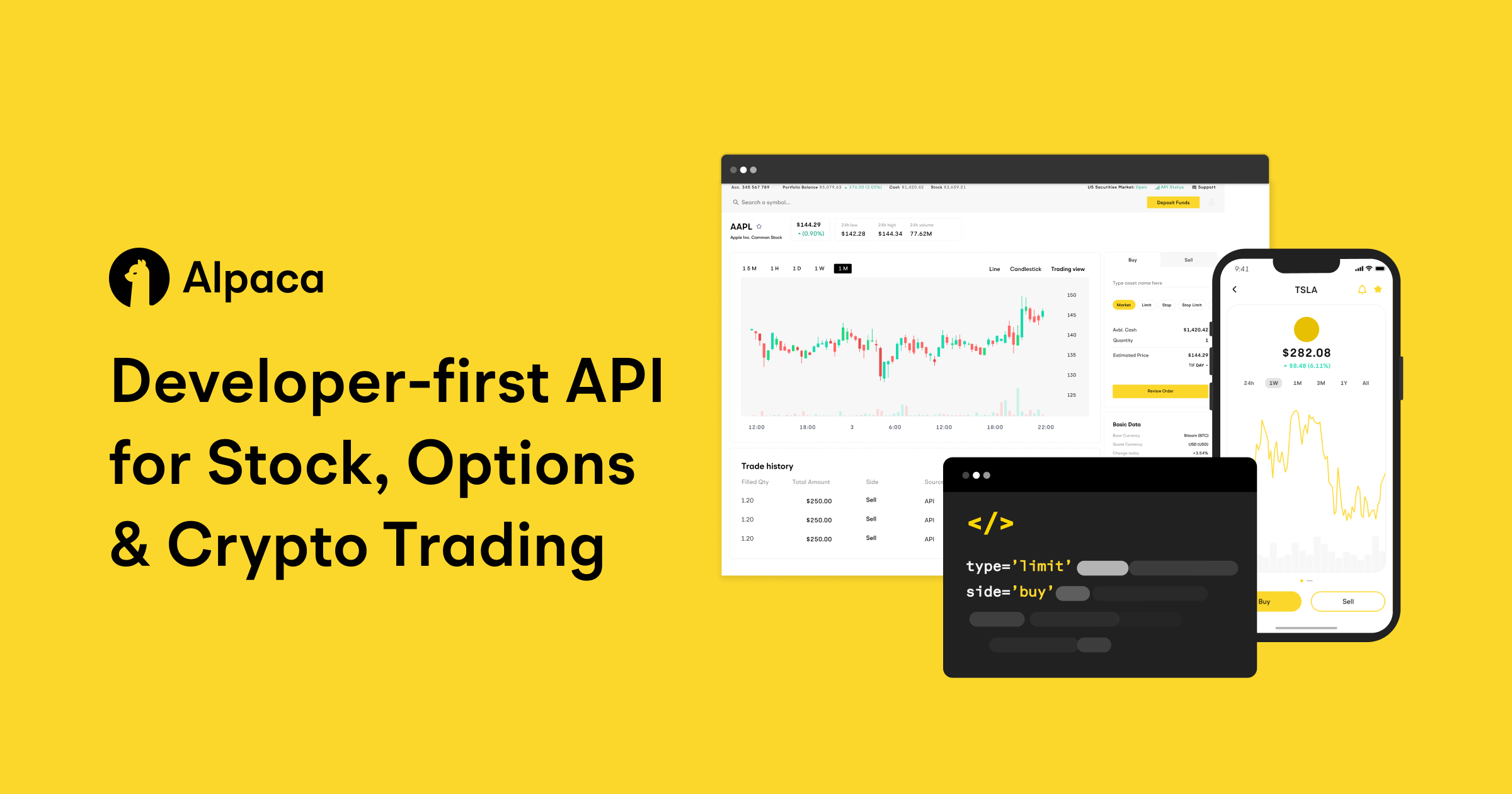 Contact Us
---
SIPC and Excess SIPC Protection

Alpaca Securities LLC is a member of the Securities Investor Protection Corporation (SIPC), which protects securities customers of its members up to $500,000 (including $250,000 for claims for cash). An explanatory brochure is available upon request via telephone at (202) 371-8300 or at www.sipc.org.

Alpaca Securities LLC has purchased an additional insurance policy through Lloyd's of London to supplement SIPC protection known as Excess SIPC Coverage. The additional insurance becomes available to customers in the event that SIPC limits are exhausted. The excess coverage provides protection for any Alpaca Securities customer up to $30 million in securities and $1 million in cash, and is covered at an aggregate limit of $150 million across all Alpaca Securities customer accounts. Similar to SIPC protection, this additional insurance does not protect against a loss in the market value of securities
---
Securities brokerage services are provided by Alpaca Securities LLC ("Alpaca Securities"), member FINRA/SIPC, a wholly-owned subsidiary of AlpacaDB, Inc. Technology and services are offered by AlpacaDB, Inc.

This is not an offer, solicitation of an offer, or advice to buy or sell securities, or open a brokerage account  in any jurisdiction where Alpaca Securities is not registered or licensed, as applicable.