Commission-Free Stock Brokerage for
Algorithmic Traders & Quant Funds

Commission-Free API
Simple RESTful Web API is supported with love by the developer community

Margin and Short Selling
Alpaca supports a wide array of algo and quant trading strategies

Business Account Support
For you who operate or are starting up a proprietary trading firm or hedge fund. Learn More

3.75% Margin Borrowing Rate
Up to 4X intraday and 2X overnight buying power amongst the industry's lowest rates

Two-Factor Authentication
We care about your security and continue to add variety of 2FA options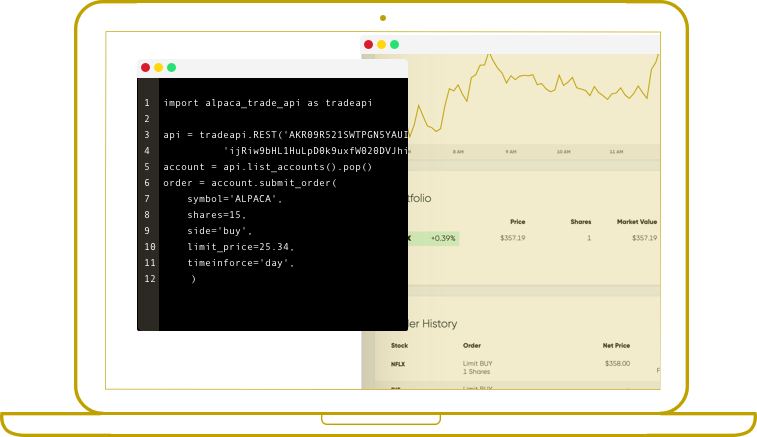 Free Unlimited Paper Trading with Real-Time Market Data
Get started now with paper trading to see how the API works and how your strategy performs. By simply updating the API endpoint from a paper account to a live trading account, you can start running your strategy in the live production environment.
Sign up free
Powerful Tools. You Control Them.
4X Intraday & 2X Overnight Buying Power
Alpaca offers a 3.75% margin interest rate, providing you affordable leverage.
Short Selling
Trade without directional bias. Alpaca's commission-free trading API gives you the ability to run long/short or market neutral strategies.
Pre Market & After Hours Trading
Expand your opportunity set. You can trade outside of Regular Trading Hours. We offer 9:00am to 6:00pm Eastern Time.
Advanced Order Types
Build sophisticated strategies using a suite of order types including trailing stop, OCO, IOC, MOO, and MOC (feature coming soon).
Technology and services are offered by AlpacaDB, Inc.
Securities are offered through Alpaca Securities LLC
Registered Securities Broker
Alpaca Securities LLC is a member of Financial Industry Regulatory Authority, Inc. (FINRA). You can check the background of Alpaca Securities on FINRA's BrokerCheck. Alpaca Securities is also a member of SIPC - securities in your account are protected up to $500,000. For details, please visit www.sipc.org.
What our Users are Saying
Finally, a professional and easy to use API to connect to the markets courtesy of Alpaca. Their team is the real deal. I can't wait to see what's next.
John S.
from Stamford, CT
I love Alpaca and their API first approach to trading, I now can add smarter rules for buying and selling stocks for free.
Kiran H.
Software Engineer, San Francisco
The Alpaca API is elegant, fast, and easy to understand and work with.
Jesse C.
Software Engineer, Seattle
These testimonials may not be representative of the experience of other customers and are not a guarantee of future performance or success.
Technology and services are offered by AlpacaDB, Inc.

Designed for Algorithmic Trading
Margin Trading &Short Selling