Commission-Free Trading Accounts for Your Business Entities
As we see the Alpaca platform grow, we are receiving more inquiries about opening live trading accounts for business entities. Today, we are excited to launch Alpaca business trading accounts Beta.
To build this from the ground up, we have partnered with Zaam (YC W20) to simplify the extremely complex process of collecting necessary information for the business onboarding. Today's Beta accepts select US Corporations, LLCs, and we continue to expand the coverage of eligible business entity types. (You will be asked to do the initial survey before submitting a bunch of other information & documents 😎)
Because this Beta program is specifically for business entities that intend to use Alpaca for trading purposes, there are several points to be noted including:
No charge to open a business trading account
Having a $30,000 account minimum
Having access to the Alpaca Data API but not to Polygon's consolidated market data
Why open accounts using your business entities?
There are multiple reasons why you would want to open live trading accounts with your business entities.
We have witnessed that an API-first trading platform tends to attract sophisticated users. With the popularity of easy to learn programming languages such as Python, there are a number of individuals capable of automating their trading or building trading and investing applications.
These pursuits may start out as hobbies or pet projects, but they can be conducive to business opportunities. Perhaps you are building the next great Robo-Advisor algorithm, or you've developed a trading strategy using machine learning that significantly outperforms the S&P 500 that you want to use to manage other people's money.
We previously wrote "Algorithmic Trading through a Business Account at Alpaca" and talked about specific use cases for trading under a business that we count among our customers today. The post talks about the cases for hedge funds, proprietary trading companies, and technology companies.
Looking to build apps/services as a business?
If you are looking for a business account because you are building apps/services, this Alpaca business trading account is not for you 😭.
Instead, to start integration and build apps using Alpaca API, please refer to this part of our documentation 🙏
How Alpaca Business Trading Accounts Beta Works
(1) Start by logging in or signing up to the Alpaca account
Each business trading account is connected to each Alpaca account (each Alpaca account is connected to each email address). Hence, if your existing Alpaca account is already connected to an existing individual live-trading account, please create another Alpaca account by using the email address and password you want to use for your business trading account from the Alpaca account signup page.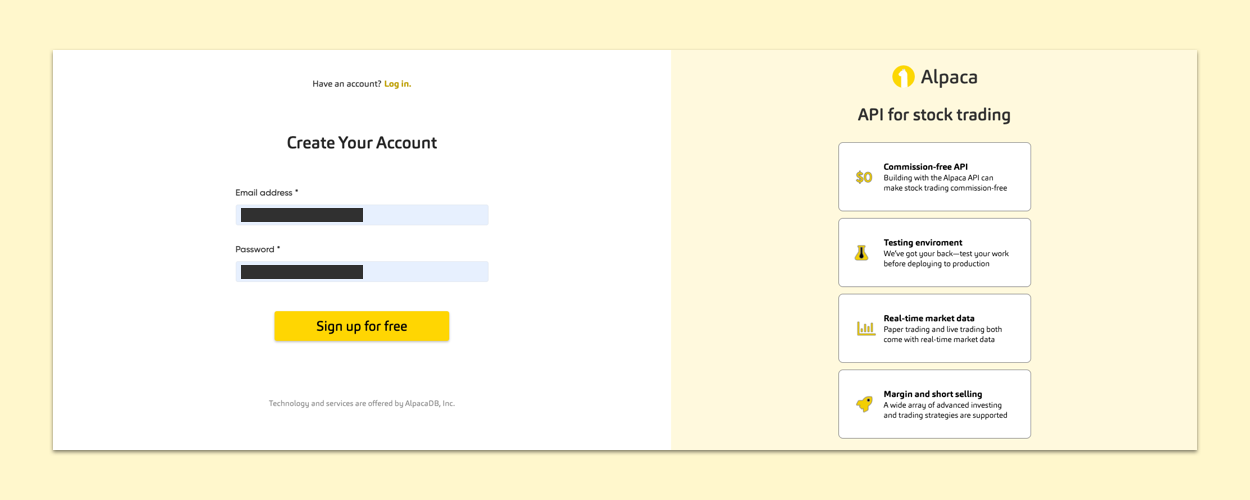 (2) Follow the instructions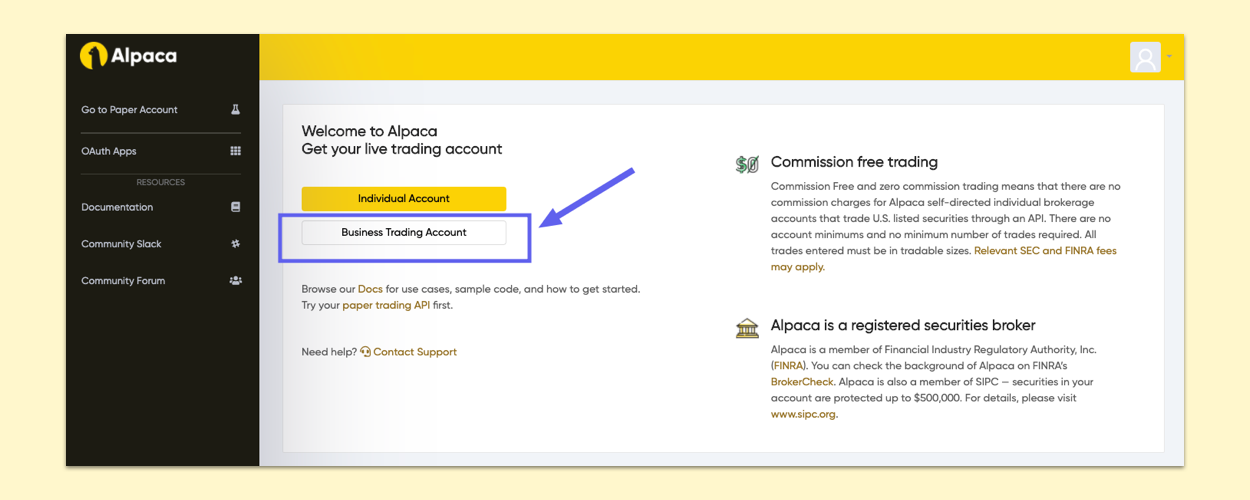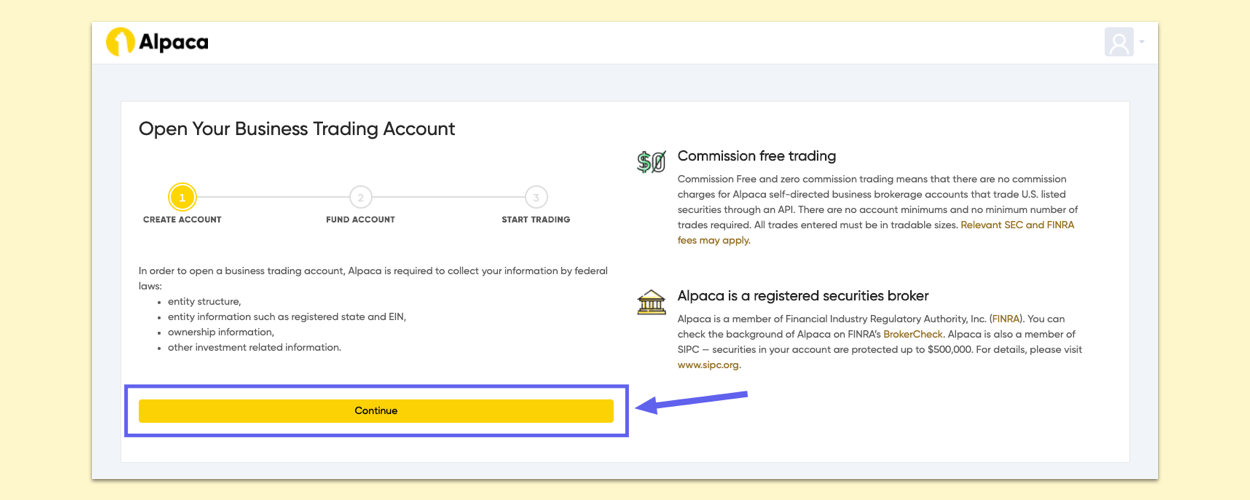 (3) Check your business entity's eligibility
On the first screen, you are asked for basic information to move forward to open a business trading account.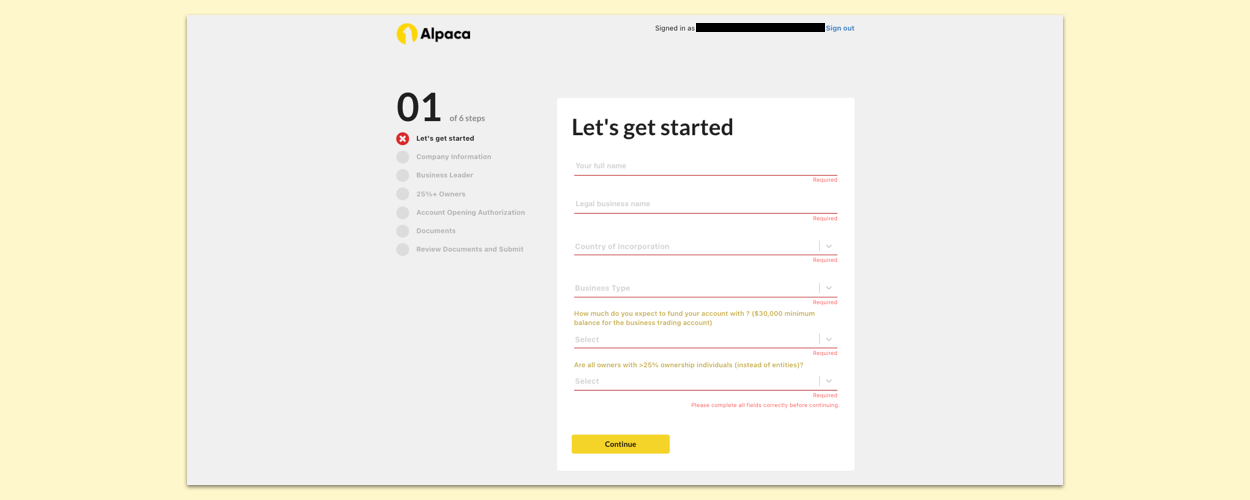 (4) Submit information & documents step by step
Please go through the business account opening process as instructed!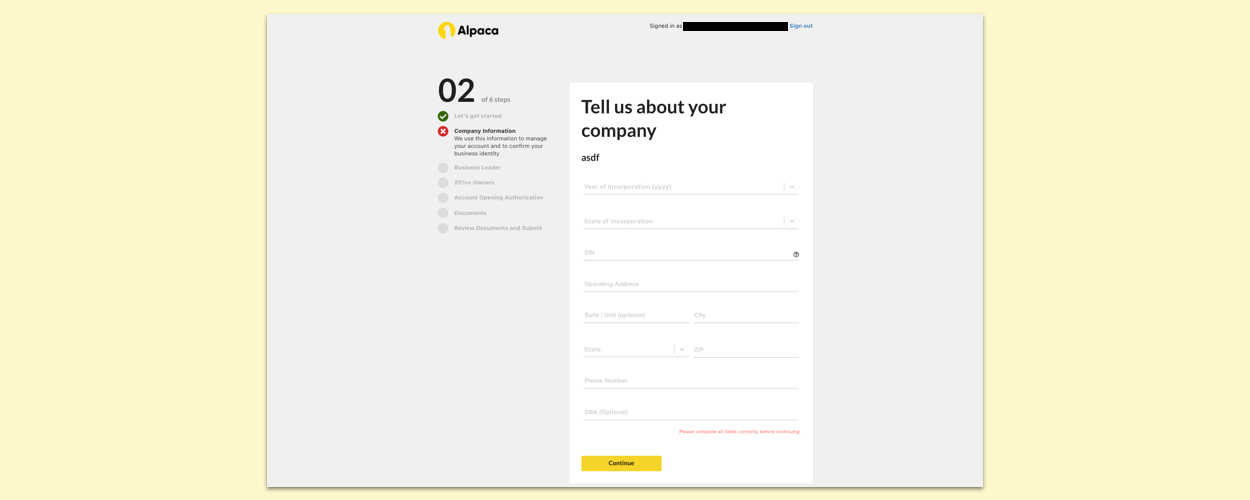 (Waitlisted) Certain restrictions of the beta program
If you are sent to the interest indication form, please bear with us as we work to expand the eligibility criteria of the Alpaca business trading accounts 🙏. We are going to update you as we expand the coverage, and please feel free to contact us for questions with regards to your business' eligibility to support at alpaca.markets.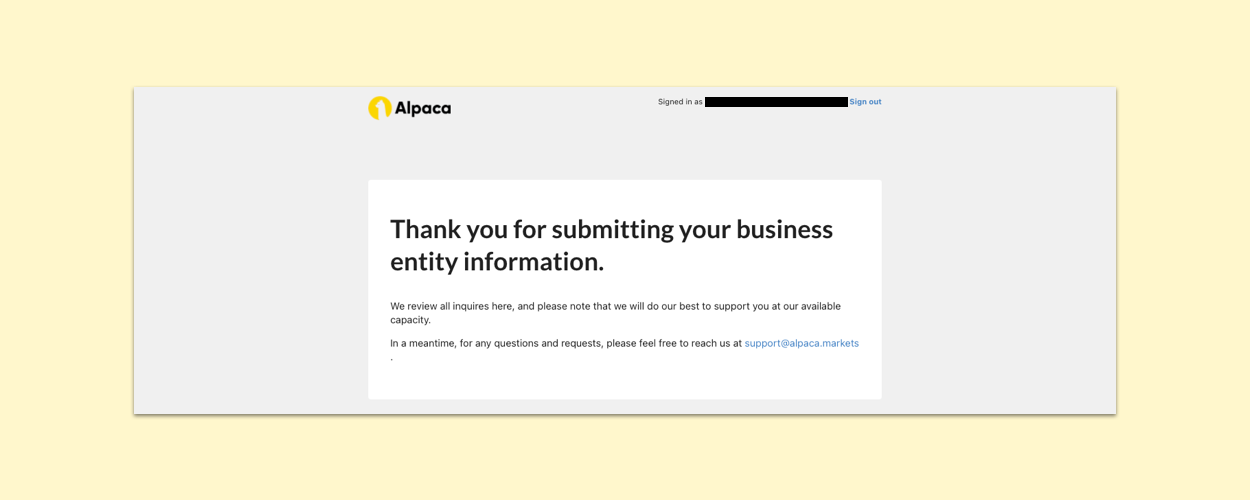 Thank you for your continued support of Alpaca!
---
Follow @AlpacaHQ on Twitter!
Commission-Free trading means that there are no commission charges for Alpaca brokerage accounts that trade U.S. listed securities through an API. Relevant SEC and FINRA fees may apply.
Technology and services are offered by AlpacaDB, Inc. Brokerage services are provided by Alpaca Securities LLC, member FINRA/SIPC. Alpaca Securities LLC is a wholly-owned subsidiary of AlpacaDB, Inc.
This is not an offer, solicitation of an offer, or advice to buy or sell securities, or open a brokerage account in any jurisdiction where Alpaca is not registered (Alpaca is registered only in the United States).
All investments involve risk and the past performance of a security, or financial product does not guarantee future results or returns. Keep in mind that while diversification may help spread risk it does not assure a profit, or protect against loss, in a down market. There is always the potential of losing money when you invest in securities, or other financial products. Investors should consider their investment objectives and risks carefully before investing.