Just as Technology Transformed Institutional Trading on Wall Street, Now Retail Investing will be Transformed by Algorithms and AI That Automate Trading into Process that Can Easily Execute Thousands of Trades a Day. Company Also Closes Pre-Series A, Bringing Total Funding to $6 Million.
The World's First Commission-Free Algo Trading Platform
San Mateo, CA — Oct. 23, 2018 — Alpaca Securities LLC ("Alpaca"), a Silicon Valley based API stock brokerage for developers and bots, today launched the world's first commission-free trading platform where individuals can easily use algorithms, trading bots and artificial intelligence in their investing and trading activities.
"Alpaca is going to transform stock trading by making available to retail traders all of the technology and science that has transformed institutional trading," said Yoshi Yokokawa, CEO and co-founder of Alpaca, which is an SEC and FINRA registered broker-dealer.
"In the beginning, individual coders who build algorithmic strategies will be able to connect those algorithms with our commission-free trading API and begin trading on our platform. Over time, we'll make algorithmic investment strategies available there to non-coder investors who want to manage their investment with customizable strategies such as automated asset allocation and rebalancing strategies, and they'll never have to manually execute a buy or sell order again."
Alpaca has been notifying some in the trading and developer community of its impending launch and already more than 4,000 accounts have registered on a waiting list. The large number of accounts attracted to the Alpaca is another indication of the surge in interest in algorithms for trading over the past few years.
Integration With QuantConnect
Alpaca has also been working closely with QuantConnect, an algorithmic trading platform that enables investors to design, build and test quantitative strategies. QuantConnect serves over 65,000 quants from more than 170 countries, and its users have designed more than 1.8 million trading strategies. The QuantConnect integration makes it seamless for users to build algorithms, test them and then trade on Alpaca's commission-free, automated platform.
"Alpaca is on track to become a much-needed solution for the growing number of algorithmic investing enthusiasts who may require a commission-free brokerage to automate their investing," said Jared Broad, founder and CEO of QuantConnect. "I anticipate that the quants on our platform, and hundreds of thousands of other coders who are seeking to pioneer algorithmic strategies to deploy in the retail investment environment, will welcome Alpaca to the market. There's a need in the space for a brokerage dedicated to facilitating automated and quantitative trading, and Alpaca is positioned to meet that need."
Integration For The Quantopian Community
Quantopian, a platform where freelance quantitative analysts develop, test, and use trading algorithms to buy and sell securities has played a key role, and its community has nearly doubled year-over-year for the last four years. Quantopian's community of more than 225,000 has run more than 9 million backtests on algorithmic trading strategies. Quantopian also builds and maintains Zipline, and Alpaca has built an integration to allow the Quantopian community to easily run algorithms with Alpaca's commission free trading API.
"Quantopian provides the world's leading quantitative finance platform for anyone to come create and test their algorithmic trading strategies," said John Fawcett, founder and CEO of Quantopian. "Zipline is the standard for backtesting. Alpaca's new retail quant trading product is a great example of Zipline accelerating innovation in our industry."
Platform To Enable Automation
Current commission free trading platforms are built still expecting that all trades be executed via manual buy and sell orders. And they are not built to handle the repetitive and frequent trading that is automated by algorithms and artificial intelligence. On Alpaca, traders will be able to open an account, deposit money and then deploy their own algorithms or trading bots so that all stock transactions occur automatically.
The technology Alpaca developed is already in use at institutions in Asia, including Mitsubishi UFJ Financial Group (MUFG), the largest financial institution in Japan.
Closing $3M Pre-Series A Round
Today the company also announced it has closed a $3 million Pre-Series A. Alpaca has raised more than $6 million in total since the company was founded in 2015. Investors include:
Global Brain, one of the largest venture capital firms in Japan
Chihiro Asano, a serial entrepreneur, angel investor, also a co-founder and former CTO of Japan's MoneyForward, which went public in 2017
D4V (Design for Ventures), a venture capital firm in partnership with IDEO
Eric Di Benedetto, a fintech angel investor with more than 30 IPO and M&A exits
Members of Berkeley Angel Network, a group of angel investors comprised of alumni of UC Berkeley
Archetype, a seed/early stage venture capital investing in tech-driven companies
Joshua S. Levine, FINRA public governer and former CTO/COO of ETRADE Financial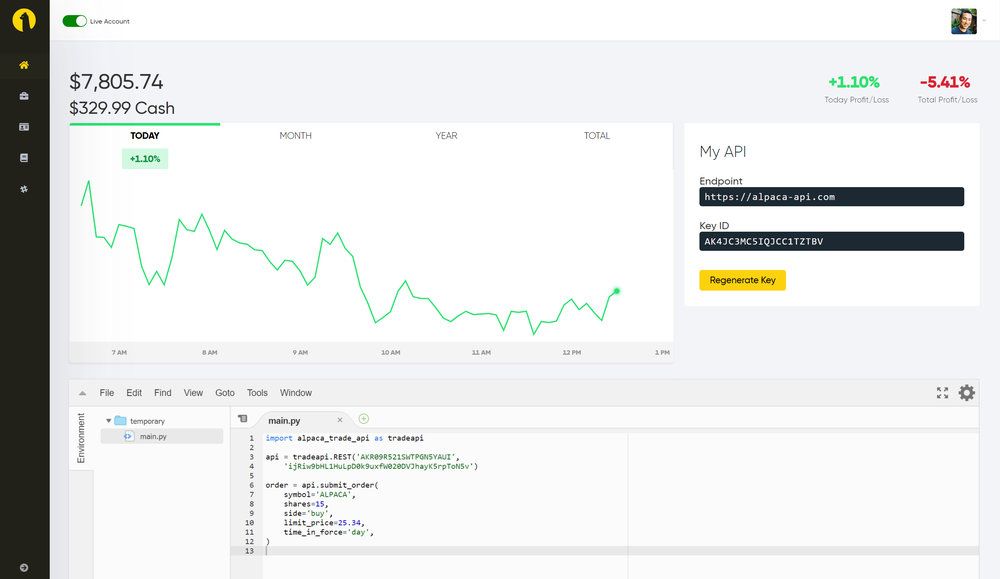 Alpaca is a Silicon Valley based API stock brokerage for developers and bots. Alpaca is dismantling the old system of stock trading that required investors to constantly monitor stocks and enter buy and sell orders manually by introducing a commission-free trading platform where individuals can easily use algorithms, trading bots and artificial intelligence. The company's database and AI technology are already used by institutional investors in Asia. Alpaca is currently accepting users at https://alpaca.markets/. Securities are offered through Alpaca Securities LLC.