Composer is a trading platform that allows retail investors to build a portfolio by adopting sophisticated, hedge fund-like investment strategies with an intuitive no-code visual editor.
About Composer
Composer was founded in 2020 by Benjamin Rollert, Ananda Aisola, and Ronny Li. The founders were unsatisfied with the limitations of retail offerings to non-professional investors and the exclusivity of institutional investment strategies to high-net-worth individuals. They realized that the vast majority of investors who are unable to code still manage their portfolios in Excel workbooks and manually enter trades into brokerages.

Established to fill the gap between institutional-grade investment strategies that retail investors would like to access and could reasonably implement, Composer helps enable retail investors to create automated trading strategies without having to write a single line of code or by simply implementing ready-made investment approaches.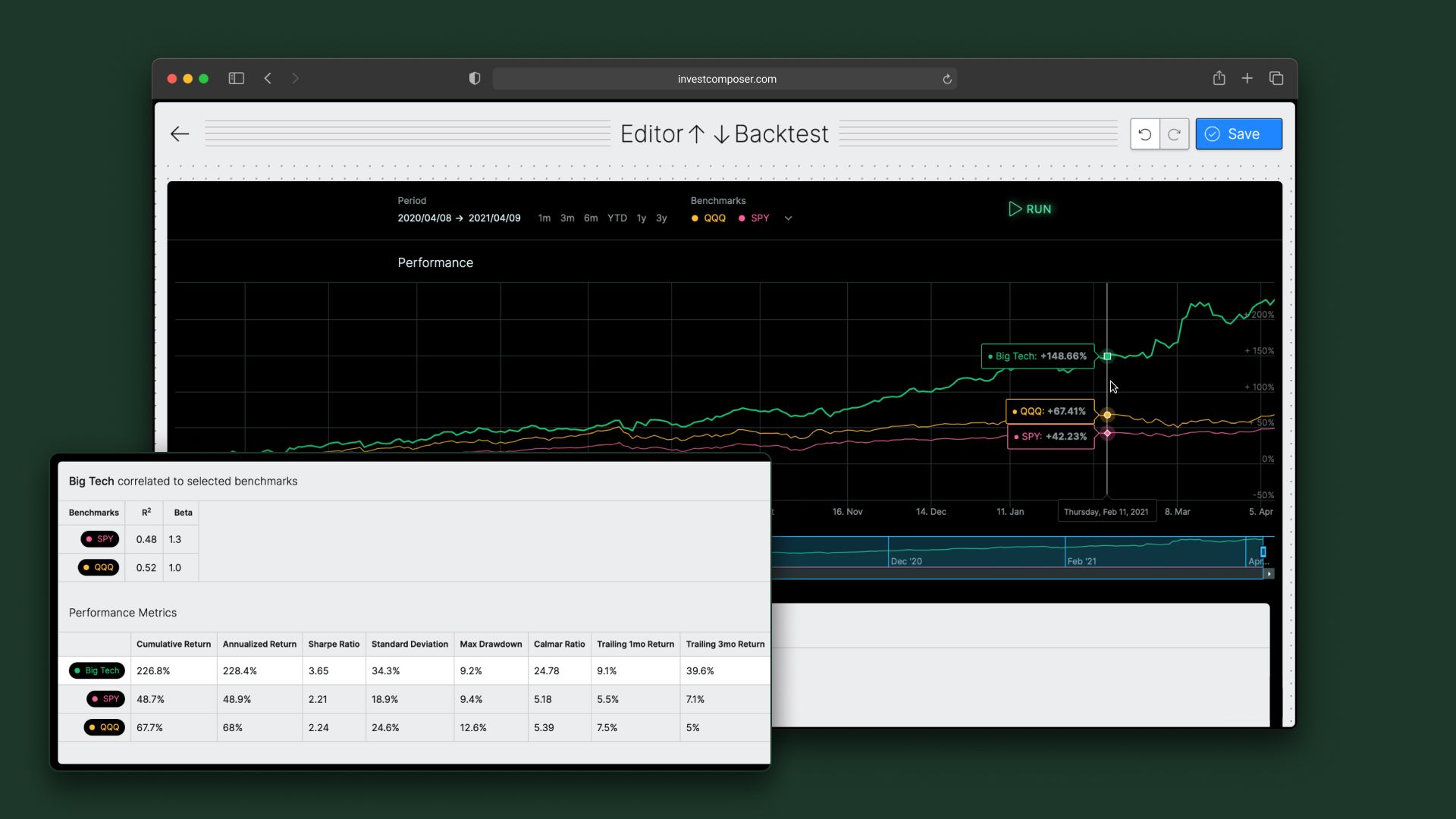 Composer's Mission
Expensive fees and coding skills shouldn't be barriers when selecting investment strategies. Composer's goal is to make dynamic portfolios accessible to investors at all levels, by providing off-the-shelf templates that are readily implementable, and by breaking the trading strategy process into building blocks that can be infinitely combined using their easy-to-use, no-code visual editor. Composer's intuitive software also enables retail investors to monitor the performance of various strategies against historical data, and, once selected, automatically executes trades on behalf of the investor.
Composer Key Features
Follow and invest in a vetted repository of strategies
Customize trading strategies with no-code building blocks - assets, weights, conditions, filters, and groups - that can be infinitely combined
Facilitate automated trades on behalf of retail investors
Track strategy performance in real-time and how much an initial investment would be worth now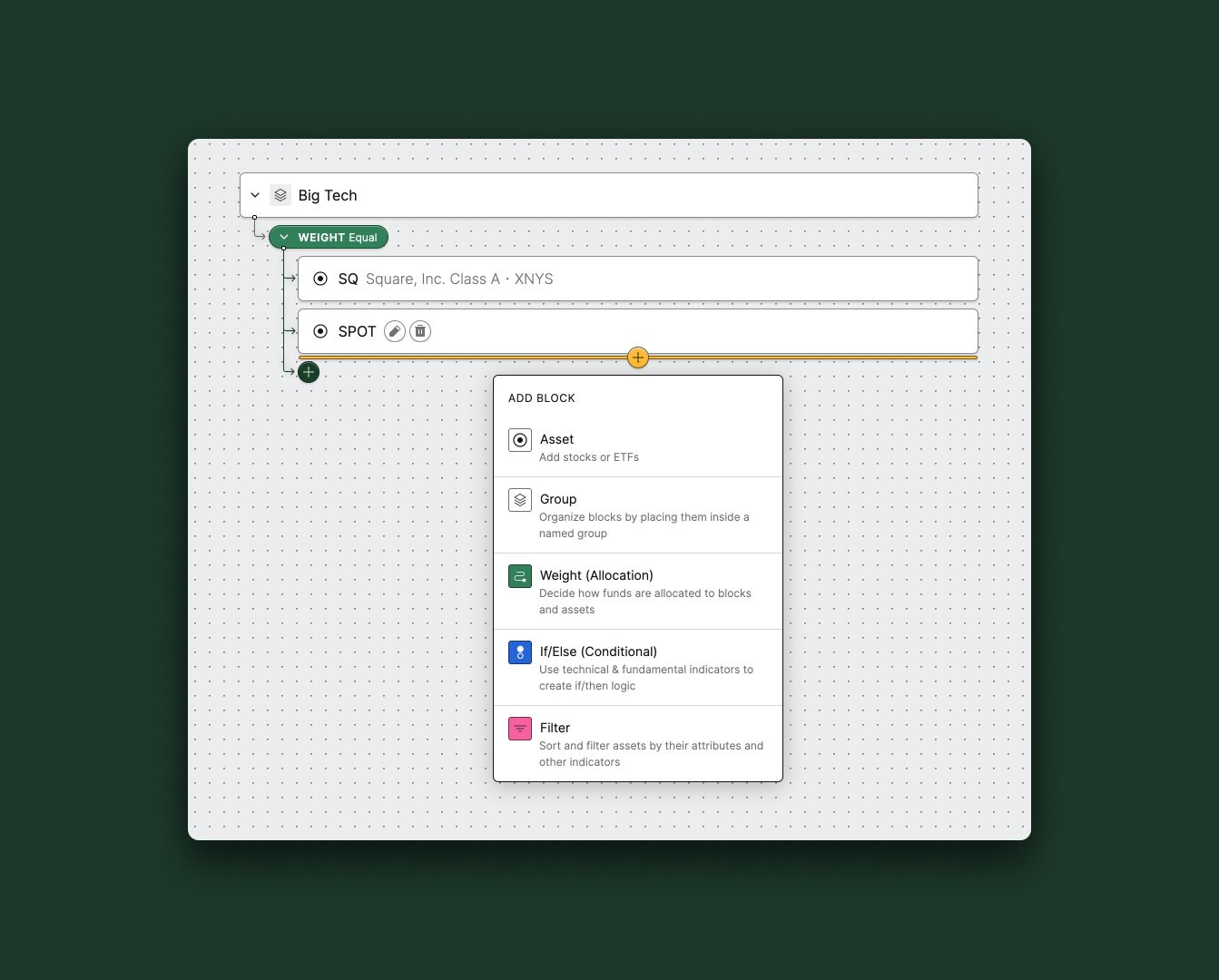 Composer Partners with Alpaca Broker API
Composer, a registered investment advisor, leverages Alpaca Broker API to offer retail investors access to systematic investing strategies that would have previously required the ability to code in order to execute.


About Alpaca
Alpaca is an API-first crypto and stock platform that's raised over $70m in funding. Alpaca offers brokerage and custody infrastructure for apps to launch and scale investing services with ease. Alpaca offers stock and crypto trading, real-time market data, brokerage operations, and compliance services through modern APIs.

---
Alpaca Securities LLC and Composer Technologies Inc. are not affiliated and neither are responsible for the liabilities of the other.
All investments involve risk and the past performance of a security, or financial product does not guarantee future results or returns. Keep in mind that while diversification may help spread risk it does not assure a profit, or protect against loss, in a down market. There is always the potential of losing money when you invest in securities, or other financial products. Investors should consider their investment objectives and risks carefully before investing.
Securities brokerage services are provided by Alpaca Securities LLC ("Alpaca Securities"), member FINRA/SIPC, a wholly-owned subsidiary of AlpacaDB, Inc.
This is not an offer, solicitation of an offer, or advice to buy or sell securities, or open a brokerage account in any jurisdiction where Alpaca Securities LLC is not registered or licensed.