More Broker API Features Are Coming
We continue to add more API features so that you can build your DIY stock trading app and experience with ease.
Today, we are excited to launch the Portfolio History API.
Portfolio History API allows you to get the timeseries data for your portfolio performance in real-time. You can now personalize your portfolio performance view however you like the best.

More Personalized Performance View
With this API, you can plot your portfolio performance in your DIY app, your website, your live-streaming screen, or anywhere you want to show off to the world in however format you want.
As you know, Alpaca's web dashboard uses this API to display the portfolio performance. I am sure that you can make this more personalized and something that you would personally like 🌻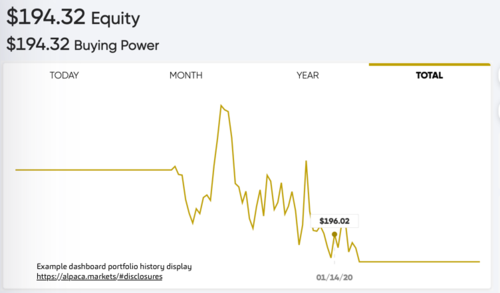 If you are using this API to build your app for your app end-users, this works well with OAuth integration, so that your end users can visually track his/her portfolio performance securely.
Check out the documentation to learn more about Portfolio History API.
Happy building!
---
Follow @AlpacaHQ on Twitter!
Brokerage services are provided by Alpaca Securities LLC ("Alpaca"), member FINRA/SIPC, a wholly-owned subsidiary of AlpacaDB, Inc. Technology and services are offered by AlpacaDB, Inc.