Xantos Labs is a Registered Investment Advisor (RIA) offering a premium investing experience for everyone. As an investment manager for the next generation of investors, Xantos Labs builds and manages portfolios for everyday folks.
About Xantos Labs

Xantos Labs was founded in 2019 by Chuk Orakwue, Olamide Harrison, and Oladipo Tokunboh. Frustrated by traditional investment advisors and their services, the founders set out to solve two big problems they noticed in the space.  First, there was no premium service available for people that didn't have millions of dollars to invest.  Second, while outdated ideas such as investing in over-diversified ETFs filtered into everyday conversations, there were novel approaches to portfolio management that remained inaccessible to the average person.  Xantos Labs made it their mission to fix both these issues and set a new benchmark for how everyday people experience investing.
"Xantos Labs was born out of frustration for the lack of premium investment advice for investors who didn't have premium sized checking accounts." - Chuk Orakwue, Managing Partner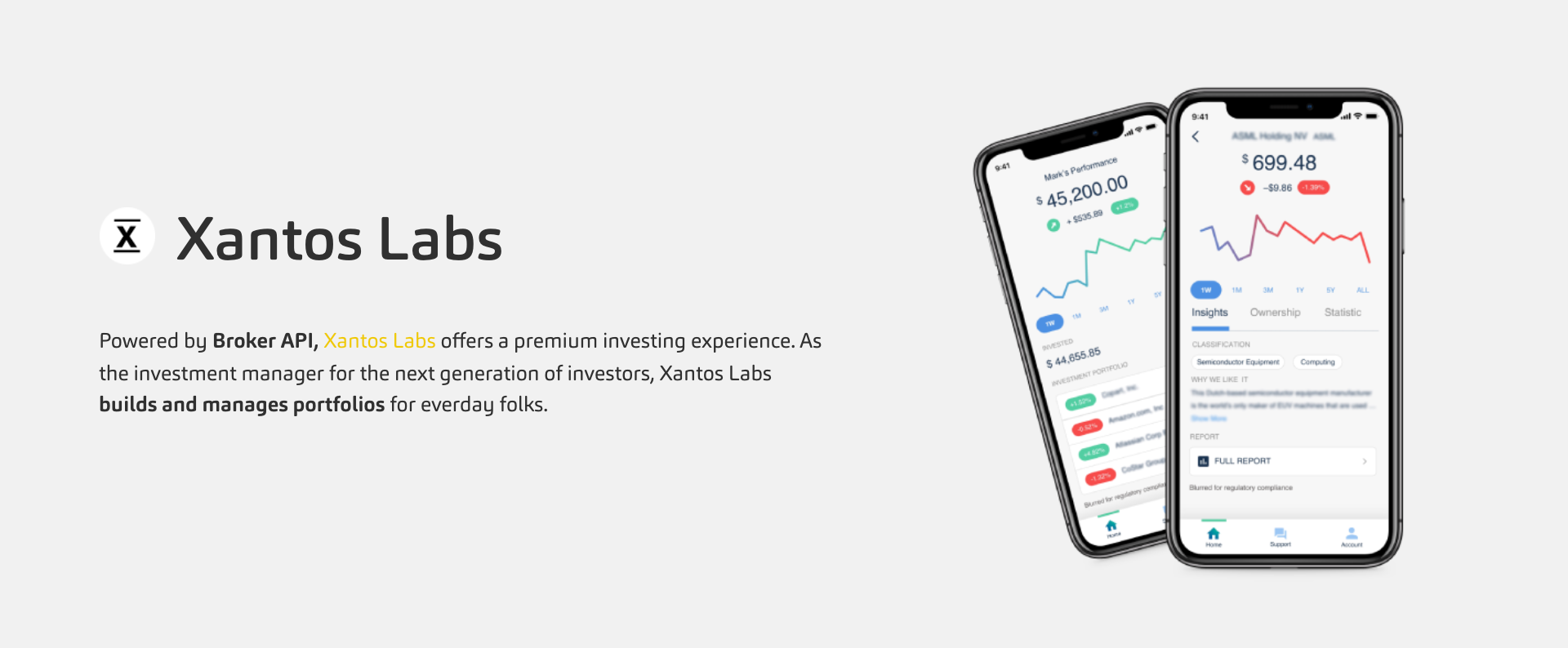 Xantos Labs Mission
Xantos Labs' mission is simple -- they want to be the premium investment advisor for everyday folk. Their goal is to offer a low minimum and low fee service with a top-tier premium investing experience for all investors regardless of their wallet size. They strive for exceptional risk-adjusted returns through a combination of qualitative research and systematic quantitative strategies. Xantos Labs also makes it a priority to educate their clients in the process, leaning into a transparent and pragmatic approach of educating their clients on how, why, and what they invest in.  

Xantos Labs Key Features

Knowledge of long-term investing
Quantitative approach to investment management
Transparent and pragmatic investing strategies*
Scalable cloud infrastructure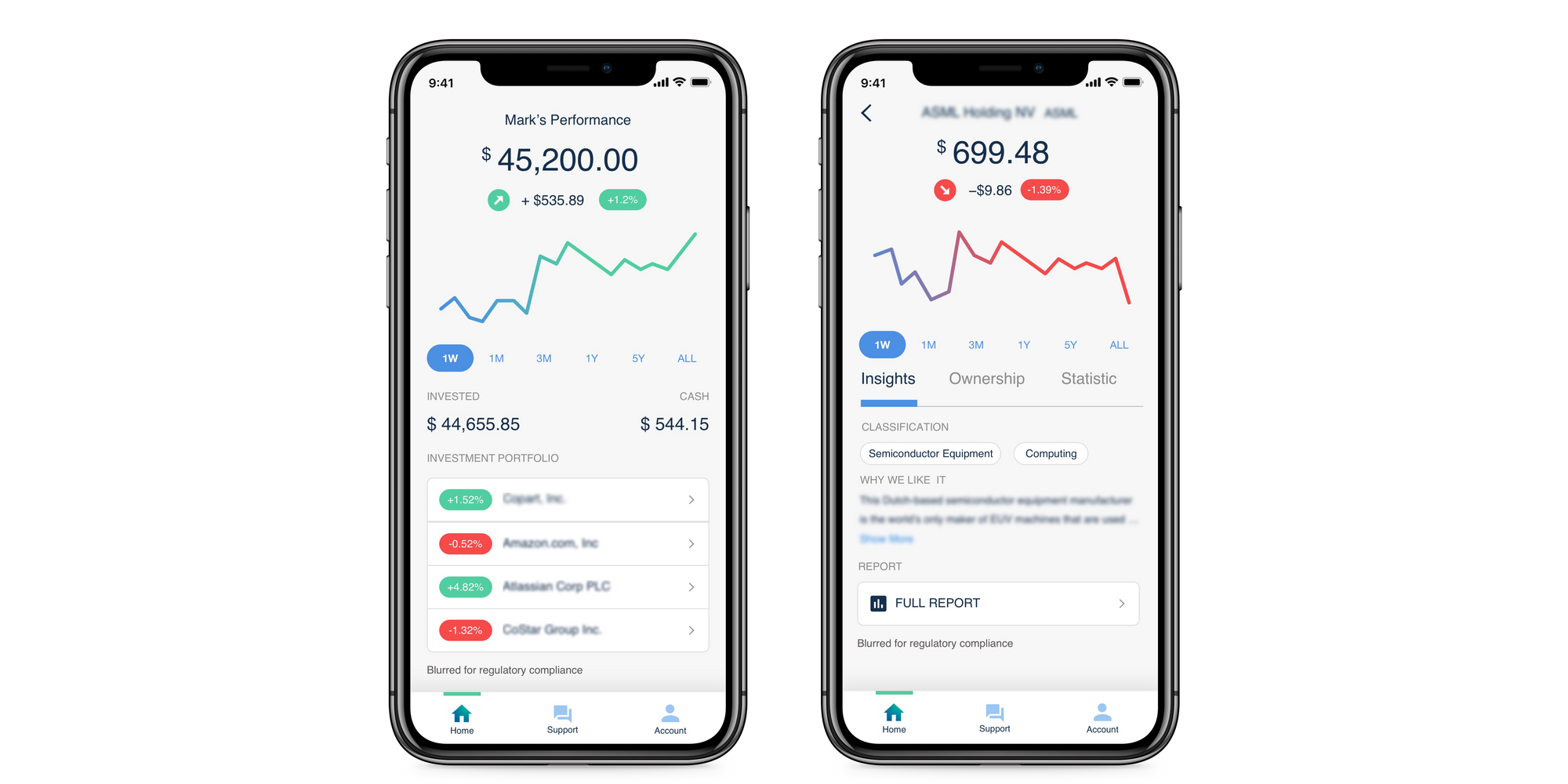 Xantos Labs Powered by Alpaca Broker API

Xantos Labs discovered Alpaca in 2019 and initially leveraged Alpaca's OAuth integration to launch their first prototypes. Once Alpaca Broker API launched in June of 2021, Xantos Labs quickly made the transition. With the help of Broker API, Xantos Labs has grown quickly while delivering a seamless experience to their clients. Alpaca Securities also acts as Xantos Labs' appointed custodian.
"Before Alpaca, we struggled to offer our product with legacy platforms where custodians catered to ultra-high net worth, charged hefty access premiums, and or lacked the tech infrastructure we needed to keep our services affordable at scale. We quickly realized that many offerings were not capable of integrating with our strategy. " - Chuk Orakwue, Managing Partner
About Alpaca

Alpaca is a globally distributed financial technology company that is democratizing global access to financial markets starting with our API-first stock brokerage. Alpaca offers commission-free stock trading via API, a suite of developer APIs for brokerages, advisors, and startups, as well as a market data API. Alpaca APIs enable developers and entrepreneurs from around the world to connect their applications to the US Stock Market.

---
Investing and investment strategies involve risk, including loss of value and the loss of principal. Past performance does not guarantee future returns or results.
Xantos Labs and Alpaca Securities LLC ("Alpaca") are unaffiliated. Brokerage services are provided by Alpaca Securities LLC ("Alpaca"), member FINRA/SIPC, a wholly-owned subsidiary of AlpacaDB, Inc. Technology and services are offered by AlpacaDB, Inc.
Commission-Free trading means that there are no commission charges for Alpaca self-directed individual cash brokerage accounts that trade U.S. listed securities through an API. Relevant SEC and FINRA fees may apply.
Technology and services are offered by AlpacaDB, Inc. Brokerage services are provided by Alpaca Securities LLC (alpaca.markets), member FINRA/SIPC. Alpaca Securities LLC is a wholly-owned subsidiary of AlpacaDB, Inc.