Snap Inc.'s annual Lens Fest puts the spotlight on Augmented Reality (AR)
We're excited to collaborate with Snap Inc. The camera company, whose flagship product Snapchat has 306 million daily users, announced the integration of Alpaca into its Lens Studio AR creation tool during Lens Fest 2021.
Lens Fest is an annual, virtual event that brings together AR creators and developers from all over the world to celebrate the advancements and possibilities of AR. This year's event focuses on the future of AR and explores the ways the technology can help fuel business growth, power innovation, and shape the way we experience the world. At this year's Lens Fest, Alpaca was named as one of the first partners in the new Lens API Library, which makes it possible to create smarter and more useful AR Lenses through real-time data.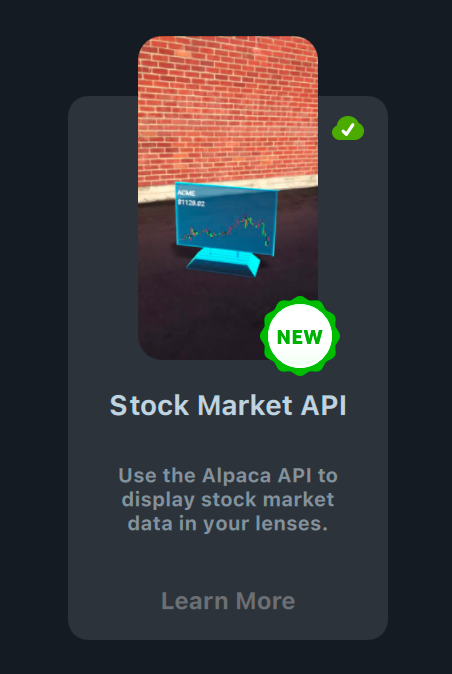 Alpaca's addition to the Snap Lens API Library enables creators to talk about stocks
Lens Studio, Snap's application for developing and publishing AR experiences, is used by more than 250,000 creators and developers around the world. Creators from more than 200 countries and territories use Lens Studio to develop Lenses for Snapchat's millions of users.
Alpaca is one of the first companies in the fintech space to have data available for creators in Lens Studio. With the rise of "finfluencers", influencers focused on finance, this presents an opportunity for creators to utilize Alpaca's data to build Lenses to share information on the stock market and be a catalyst for conversations about financial literacy on Snapchat and beyond.
"Alpaca is excited to provide Snap creators and developers new ways to create AR experiences with stock market data. In these uncertain times, opening up larger conversations around financial literacy, trading, and investing in new immersive ways is needed now more than ever." - Yoshi Yokokawa, CEO and Co-founder at Alpaca
What's possible for creators and developers using Alpaca's data in Snap's API Lens Library
Create AR experiences with stock market data
Empower conversations around financial literacy, trading, and investing
Enable creators to offer AR market data features as a service
For more information about the Lens Studio and to build your own Lens using Alpaca's market data, view the Stock Market API in the Lens API Library.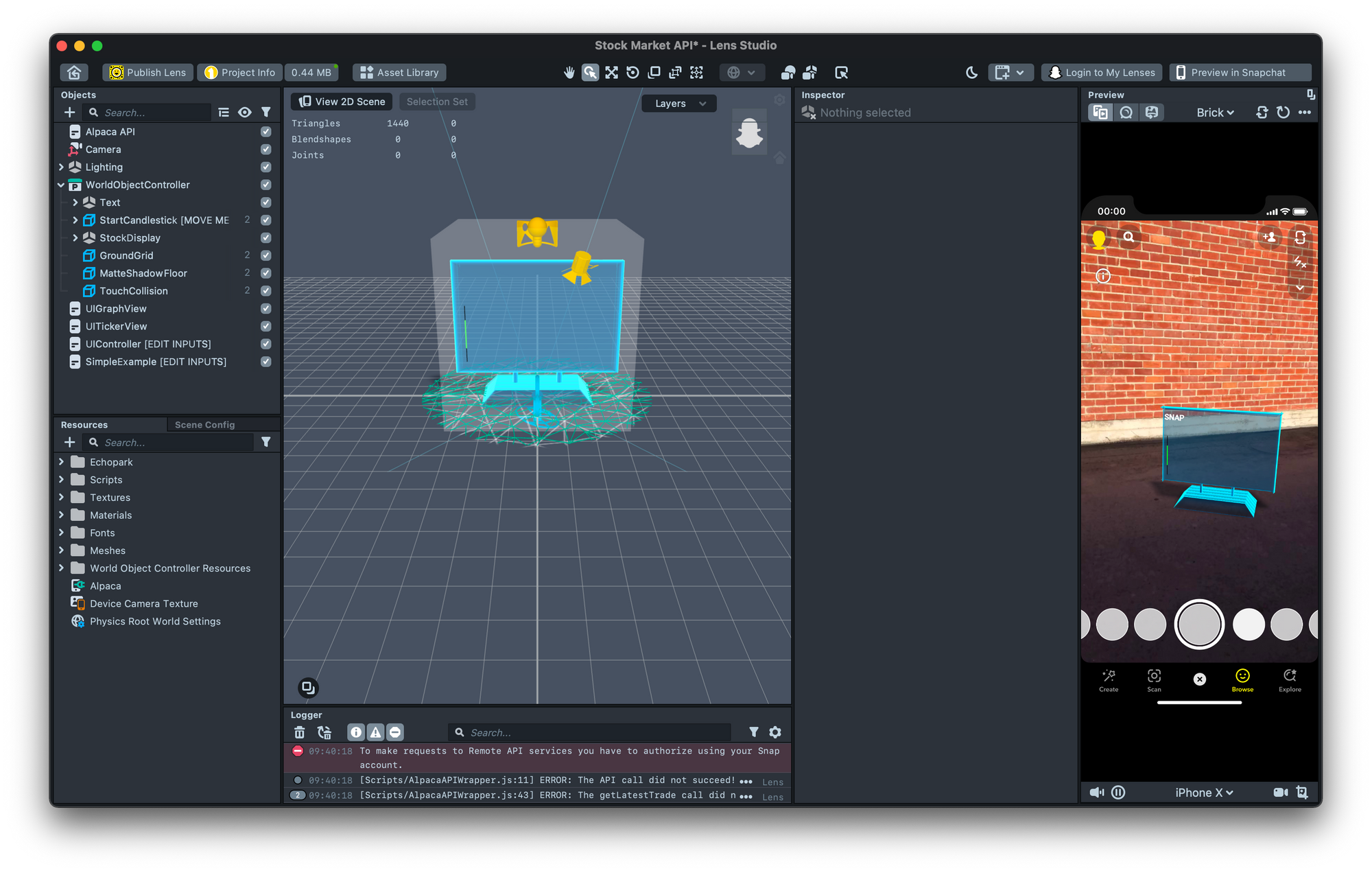 About Alpaca
Alpaca is an API-first stock and crypto brokerage platform that's raised over $70M in funding. Alpaca offers brokerage and custody infrastructure for apps to launch and scale investing services with ease. Alpaca offers commission-free stock and crypto trading, real-time market data, brokerage operations, and compliance services through modern APIs.
---
This content is for general information purposes only. Investing and investment strategies involve risk, including loss of value and the loss of principal. Past performance does not guarantee future returns or results.
Snap Inc. and Alpaca Securities LLC ("Alpaca") are unaffiliated and neither are responsible for the liabilities of the other.
This is not an offer, solicitation of an offer, or advice to buy or sell securities, or open a brokerage account in any jurisdiction where Alpaca is not registered (Alpaca is registered only in the United States)
Brokerage services are provided by Alpaca Securities LLC ("Alpaca"), member FINRA/SIPC, a wholly-owned subsidiary of AlpacaDB, Inc.
Commission-Free trading means that there are no commission charges for Alpaca self-directed individual cash brokerage accounts that trade U.S. listed securities through an API. Relevant regulatory fees may apply.