TradingView's advanced charting integration on the Alpaca dashboard is now powered by Market Data API
Alpaca is excited to announce our latest integration and partnership with TradingView, a leading charting platform used by over 30 million traders and investors a month*. As part of Alpaca's continued efforts to provide the best experience for customers, the TradingView integration combines Alpaca's real-time market data and TradingView's advanced charts, to offer users an all-in-one experience directly on the Alpaca dashboard. With TradingView, Alpaca is aiming to provide a more streamlined, seamless user experience on a single platform.
"TradingView is one of the greatest platforms in today's trading space and it complements Alpaca's API platform very well. Many of our users love being able to trade both in the advanced user interface and API at the same time, which provides a very unique offering. We're excited about this integration and our partnership journey with TradingView." - Hitoshi Harada, Co-founder & CTO at Alpaca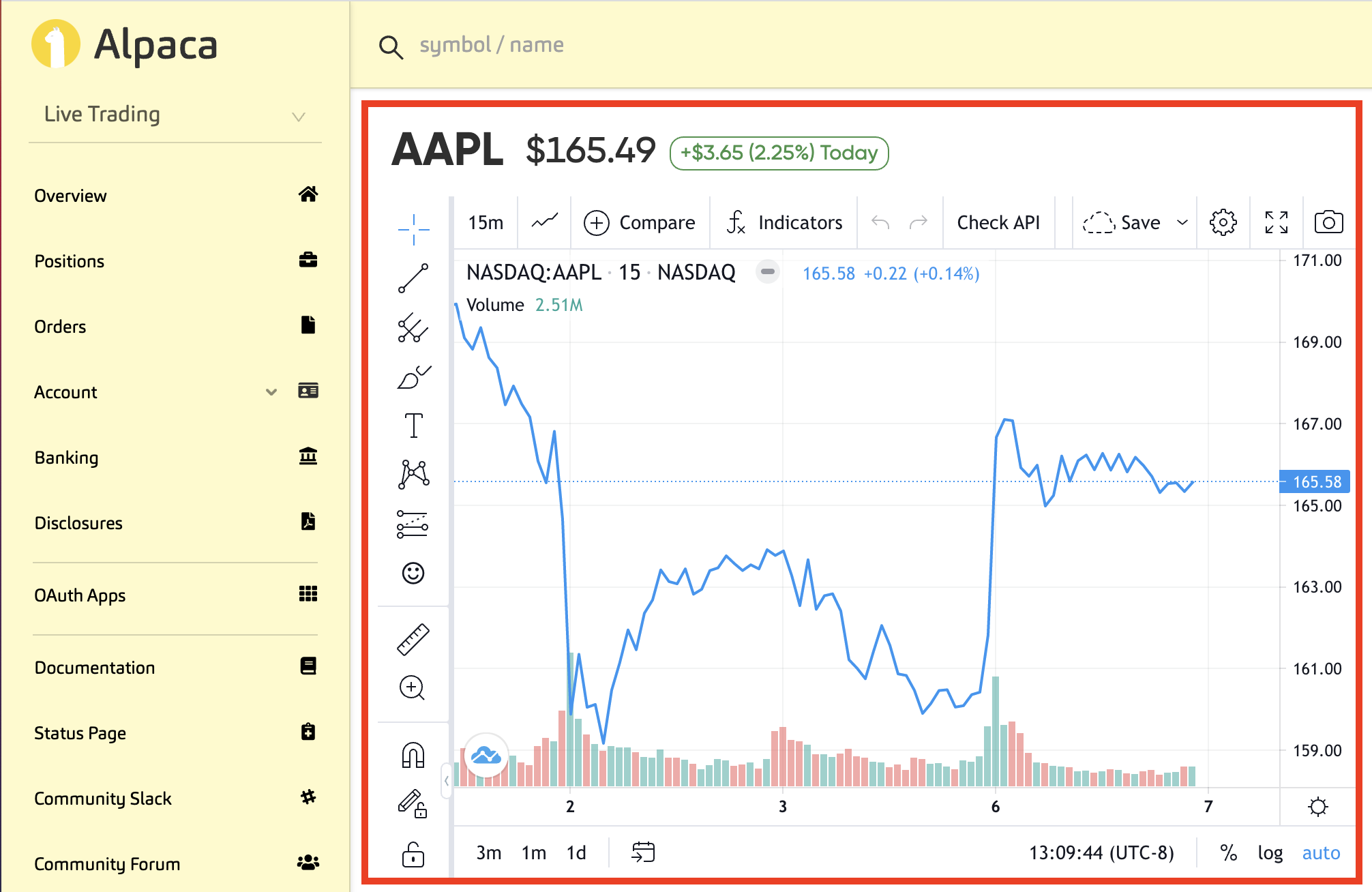 Seamless user experience
We're proud to provide a premium charting experience for Alpaca users. Previously, those using both TradingView and Alpaca had the option of using the Alpaca integration on TradingView's platform. However, users had to toggle back to Alpaca for features like access to real-time market data. With this new integration, you can leverage TradingView's best-in-class charts to view real-time market data and submit orders directly within the dashboard — no need to toggle back and forth between two platforms.
"This launch combines best-in-class execution with best-in-class charting in a single dashboard. We look forward to our continued partnership with Alpaca and helping to build great experiences for Alpaca customers." - Pierce Crosby, General Manager, TradingView
Integrated with Alpaca Market Data
As part of Alpaca's ongoing efforts to provide the best user experience, the TradingView Chart integration also brings a couple of key improvements to Market Data on Alpaca. Previously charts didn't display the user's timezone and data delivery was delayed. Now, when users view a chart it will automatically display in their specific timezone, as fast as possible. We've also adjusted the Free plan of Market Data to no longer have a 15-minute delay to retrieve historical data.  
Benefits for Alpaca users
Seamless user experience - use TradingView charting directly from the Alpaca dashboard without having to toggle between the two platforms
Leverage real-time data with Market Data API - SIP displays in real-time for data subscribers
Advanced portfolio and position tools unique to Alpaca - take advantage of Alpaca's advanced order types and developer-first API
Features coming soon
In the coming weeks, Alpaca plans to roll out new feature updates that will expand on the current capabilities of TradingView's advanced charting with Alpaca's real-time market data integration. The upcoming features will add new functionality to the Alpaca trading dashboard by enabling the ability to place fractional orders, the ability to place advanced order types like trailing stop orders, and second-level aggregate bars for deeper insights.
About Alpaca
Alpaca is an API-first stock and crypto brokerage platform that's raised over $70m in funding. Alpaca offers brokerage and custody infrastructure for apps to launch and scale investing services with ease. Alpaca offers commission-free stock and crypto trading, real-time market data, brokerage operations, and compliance services through modern APIs.
---
Disclosures
This content is for general information purposes only. Investing and investment strategies involve risk, including loss of value and the loss of principal. Past performance does not guarantee future returns or results. Investors should consider their investment objectives and risks carefully before investing.
TradingView and Alpaca Securities LLC ("Alpaca") are unaffiliated and neither are responsible for the liabilities of the other.
This is not an offer, solicitation of an offer, or advice to buy or sell securities, or open a brokerage account in any jurisdiction where Alpaca is not registered (Alpaca is registered only in the United States)
Brokerage services are provided by Alpaca Securities LLC ("Alpaca"), member FINRA/SIPC, a wholly-owned subsidiary of AlpacaDB, Inc.
Commission-Free trading means that there are no commission charges for Alpaca self-directed individual cash brokerage accounts that trade U.S. listed securities through an API. Relevant regulatory fees may apply.