Alpaca, the API-first stock and crypto investing platform, has once again triumphed at the prestigious Benzinga Global Fintech Awards. At the 9th annual ceremony, Alpaca emerged as the unrivaled winner in the category of Best API Solution for 2023.
This achievement solidifies Alpaca's commitment to global accessibility in the financial technology sector, marking a significant milestone in the company's journey. The Benzinga Global Fintech Awards celebrate remarkable accomplishments, spotlight emerging talents, and honor innovative disruptors making positive strides in the fintech landscape.
"We are thrilled to receive the prestigious award of 'Best API Solution' at the 2023 Benzinga Fintech Awards. At Alpaca, we are unwavering in our commitment to the development and accessibility of an API-first investing infrastructure." said Yoshi Yokokawa, Co-founder and CEO at Alpaca. "This recognition underscores our dedication to providing businesses, traders, and developers with seamless access and the integrations they desire for their applications and services."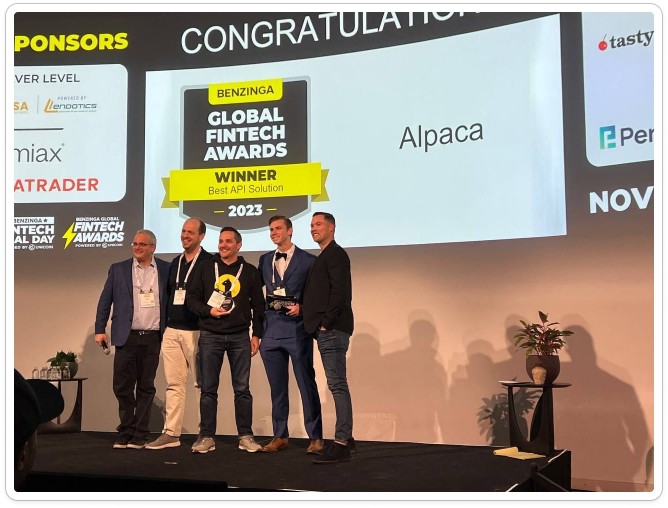 This recent achievement builds upon Alpaca's earlier recognition, as the platform clinched the title of Best Automated Trading Software at the 2022 Benzinga Fintech Awards. The consecutive wins underscore Alpaca's continuous dedication to global accessibility of financial services.
To read more about Alpaca's previous victory, you can find out more here on their Best Automated Trading Software win at the 2022 Benzinga Fintech Awards.
Let's See How We Can Partner Together
About Alpaca
Alpaca is a developer-first API brokerage platform that's raised over $120m in funding. Alpaca offers stock and crypto trading, real-time market data, and end-to-end brokerage infrastructure through modern APIs. Alpaca is backed by top investors in the industry globally, including Portage Ventures, Spark Capital, Tribe Capital, Social Leverage, Horizons Ventures, Unbound, SBI Group, Eldridge, Positive Sum, Elefund, and Y Combinator. Securities brokerage services are provided by Alpaca Securities LLC ("Alpaca Securities"), member FINRA/SIPC, a wholly-owned subsidiary of AlpacaDB, Inc. Technology and services are offered by AlpacaDB, Inc.
---
This content is for general informational purposes only. Alpaca and Benzinga are not affiliated, and neither are responsible for the liabilities of the other.