Introducing Alpaca Connect Marketplace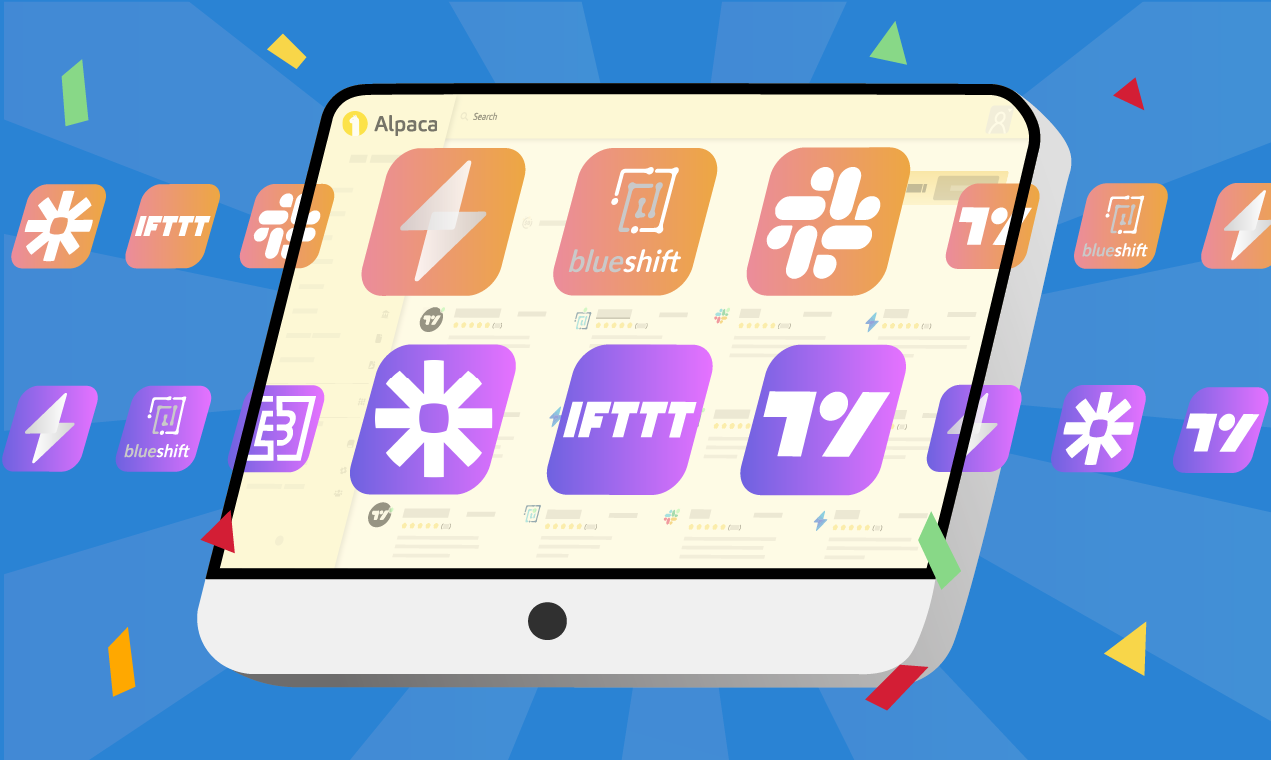 At Alpaca, we're always looking for ways to give you deeper insights and a more seamless trading experience. That's why we're excited to announce the beta launch of Alpaca Connect Marketplace, which helps you discover apps and tools from around the world and easily integrate them with your Alpaca account. Starting today, with your Alpaca Account you can connect to platforms like TradingView, Blueshift, and Arcade Trader in just a few clicks.
Alpaca Connect Marketplace
As we roll out Alpaca Connect, we're beginning with an app marketplace that's easily accessible from our web dashboard. For this beta launch, we are bringing you eight apps built by developers and companies you know and love.
Alpaca Connect enables you to discover apps built by traders just like you. From apps that help you build strategies using drag-and-drop tools to market data integrations, there are apps for traders of all levels, and we are just getting started.
The OAuth integration is a secure integration type, and every app is approved by our compliance team. Apps can either have read only access to your account (eg. charting apps) or they can have read/write access to your account and place trades on your behalf (eg. automated strategies).
Integrate With Apps in Just a Few Clicks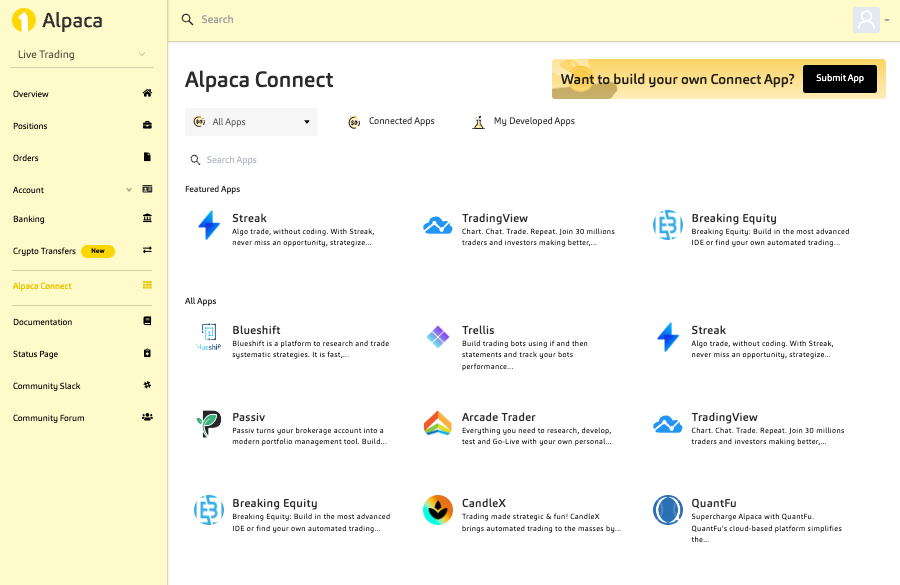 When you log in to our web dashboard, you'll see Alpaca Connect on the left panel. Once you click to access the marketplace, you will be able to view all supported apps that integrate with your Alpaca account.
Alpaca Connect Marketplace Key Features
Connect to apps that meet your trading needs
Secure OAuth integration
Easily discover new apps directly from Alpaca's web dashboard
Quickly integrate with apps in just a few clicks
Coming Soon
Apps and integrations built by Alpaca
Developer Dashboard to allow developers to track their business on Alpaca, launch rewards, onboard users directly on Alpaca, and much more!
Ready to start exploring apps you can connect with to enhance your trading? Log in to our web dashboard and click on Alpaca Connect to get started!
---
Please note that this article is for general informational purposes only. All screenshots are for illustrative purposes only.
Securities brokerage services are provided by Alpaca Securities LLC ("Alpaca Securities"), member FINRA/SIPC, a wholly-owned subsidiary of AlpacaDB, Inc. Technology and services are offered by AlpacaDB, Inc.
Cryptocurrency services are made available by Alpaca Crypto LLC ("Alpaca Crypto"), a FinCEN registered money services business (NMLS # 2160858), and a wholly-owned subsidiary of AlpacaDB, Inc. Alpaca Crypto is not a member of SIPC or FINRA. Cryptocurrencies are not stocks and your cryptocurrency investments are not protected by either FDIC or SIPC. Depending on your location, cryptocurrency services may be provided by West Realm Shires Services, Inc., d/b/a FTX US (NMLS #1957771). Please see the Disclosure Library for more information.
This is not an offer, solicitation of an offer, or advice to buy or sell securities or cryptocurrencies, or open a brokerage account or cryptocurrency account in any jurisdiction where Alpaca Securities, Alpaca Crypto, or FTX US respectively, are not registered or licensed, as applicable