Greetings!
Data is one of the most important components of algorithmic trading and is the backbone for generating signals. Here at Alpaca, we continue to improve our product offerings as well as your Alpaca experience and hence we are excited to announce our Alpaca Data API version 2!
The API v2.0 will consist of real time and historical price data and will evolve with more upgrades with time. Starting from the 27th February 2021, the Alpaca Data API v2.0 will replace the existing Polygon.io data feed that has been offered to live accounts. Furthermore, this switch means that all Polygon.io services through Alpaca will soon be discontinued.
---
About Alpaca Data API v2.0
We are introducing two market data plans for our customers.
Free: This plan is included in both paper-only and live trading accounts as the default plan for free. It is best suited for those who only use data less actively and don't require data from all US stock exchanges.
Unlimited: Accessible for both paper-only and live trading accounts for $49 per month. Best for people who want to have unlimited access to data with a 100% market coverage (SIP data feed) for US stocks.
You can see more details about the new pricing here: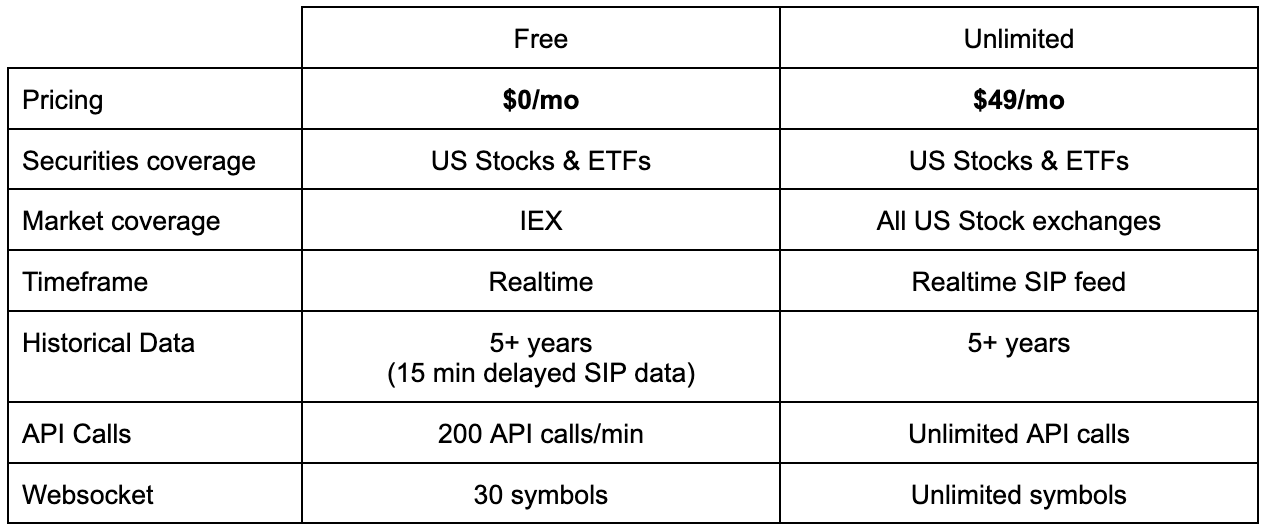 ---
Next Steps


Paper-trading accounts:
Previously our paper trading accounts used the Alpaca Market Data API v1. With the introduction of version 2, all paper trading accounts will have default access to the Free plan, but also have the option to subscribe to the Unlimited plan. Please make sure to read through our documentation so that you can make the appropriate changes.
Live accounts:
As of Feb 28, 2021, access to Polygon.io data feed via your Alpaca API key will be phased out. In order to make the transition as smooth as possible, together with Polygon.io we are providing a 100% discount coupon for March to our live users who are currently using Polygon.io data and would like to continue their usage.
You need to take action to ensure you retain your access and will need to create an account on Polygon.io's website. Please use the coupon code - that was sent out in an email - during checkout on Polygon.io to claim your free month.
After you sign up, you will need to replace your legacy Polygon API keys with those associated with your newly created Polygon account.
After your free month, you will be charged the regular price for Polygon.io. For the pricing details, please visit https://polygon.io/pricing. If you would like to start using the new Alpaca Data API v2, check our documentation.
In case of additional questions, please feel free to reach out to us on our Alpaca Forum and the Alpaca Community Slack.

Technology and services are offered by AlpacaDB, Inc. Brokerage services are provided by Alpaca Securities LLC, member FINRA/SIPC. Alpaca Securities LLC is a wholly-owned subsidiary of AlpacaDB, Inc.
You can find us @AlpacaHQ, if you use Twitter.