We recently added new capabilities and upgraded our infrastructure for improved overall platform stability and performance. Although these upgrades are not necessarily visible, they support a growing amount of activity that we are witnessing on the Alpaca platform.
---
Order Details Page & Replacing Orders in Dashboard
Orders Page
Click on one of the row items on the Orders page. You can see more details about your order, including a detailed order trail history of your current and/or replaced orders (if applicable).
Replacing Order
When you have trouble with a particular order and need to contact Alpaca's support team, you can find out the Order ID here. Including the Order ID in your support request helps us understand and resolve your issue quickly!
---
Adding Execution Broker Partners
We added two new execution broker partners, Citadel and Virtu. We have been testing the connection for a few months with them, and the integration with these new execution broker partners is now in production. Citadel and Virtu come as the addition to Wolverine that we have been working with. We are extremely happy about this update as this helps improve the stability of Alpaca's trading platform and something that our users have been waiting for.
At the same time, we are also enhancing our backbone physical infrastructure with our execution brokers in the NJ data center, so the latency improves, and our platform continues to be scalable to keep up with our user base growth.
---
More Robust Order Management System ("OMS")
We recently made a significant improvement in our OMS. We have been working hard to upgrade the OMS as this influences the performance of the paper and the live trading system greatly.
Our most recent OMS update improves performance by 25%. We were also able to improve TPS around the core business logic by 300% in processing speed.
We continue to maintain and upgrade our backend infrastructure to keep up with the activity growth on Alpaca's platform, and we are extremely thankful for your involvement and participation!
---
2nd Trade Contest Started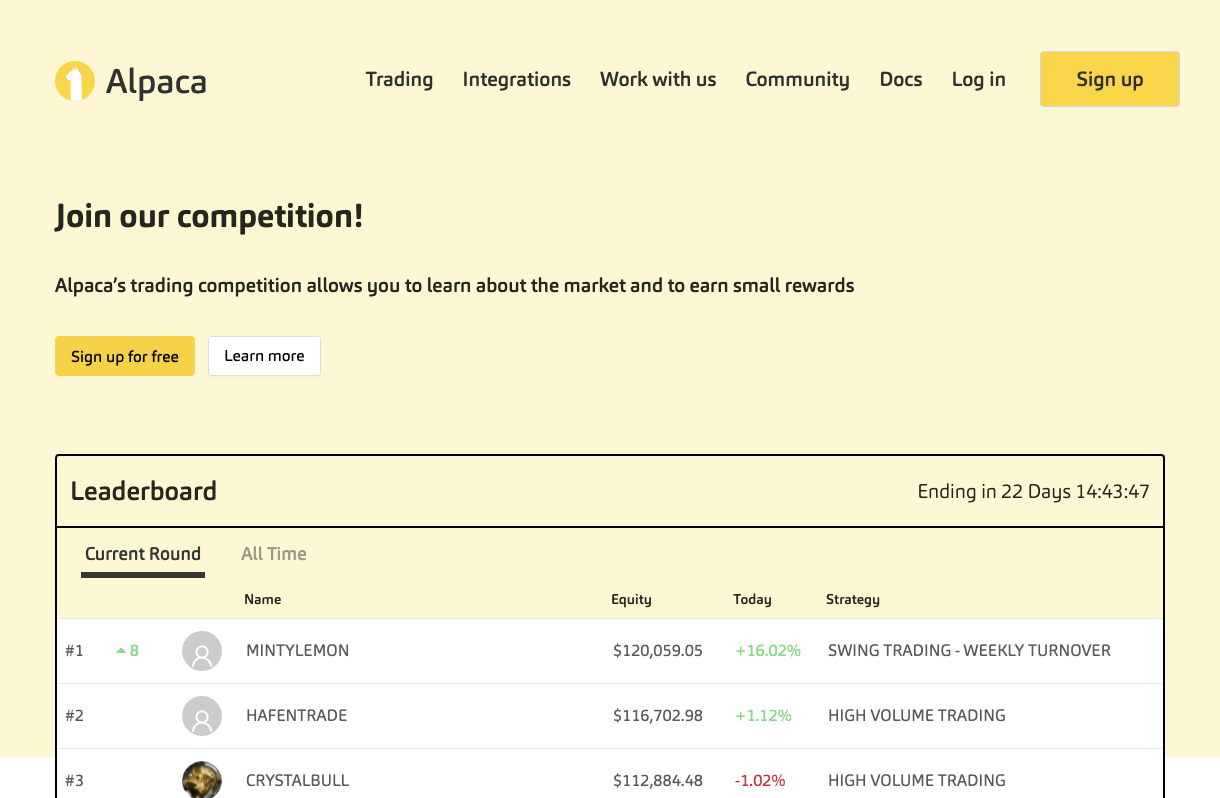 We started Alpaca's 2nd trade contest on Monday, Oct 26th. This is going to last for four weeks, and we are going to update the ranking on a real-time basis in the newly launched leadership board.
Our focus is to expand the community of enthusiastic developers and tech-savvy people around trading. Our goal for this event is to allow you to explore the crossroads of technology and trading.
---
Follow @AlpacaHQ on Twitter!
Brokerage services are provided by Alpaca Securities LLC ("Alpaca"), member FINRA/SIPC, a wholly-owned subsidiary of AlpacaDB, Inc. Technology and services are offered by AlpacaDB, Inc.