InvestSky is a social investing platform that offers a new generation of investors the opportunity to embark on trading stocks in a more inclusive, intuitive, and informed way.

About InvestSky
InvestSky, was established in 2021 by Nitish Mittal and Turki Alshaikh to help remove the challenges and hurdles of investing for non-professionals and make the process as seamless as possible. They planned to achieve this by launching InvestSky to empower non-professional investors to make sound investment decisions by leveraging socially connected tools with a collaborative and community-driven approach.  

The platform allows users to buy fractional stocks starting from $1 on a commission-free basis and provides a social community ecosystem for them to collaborate.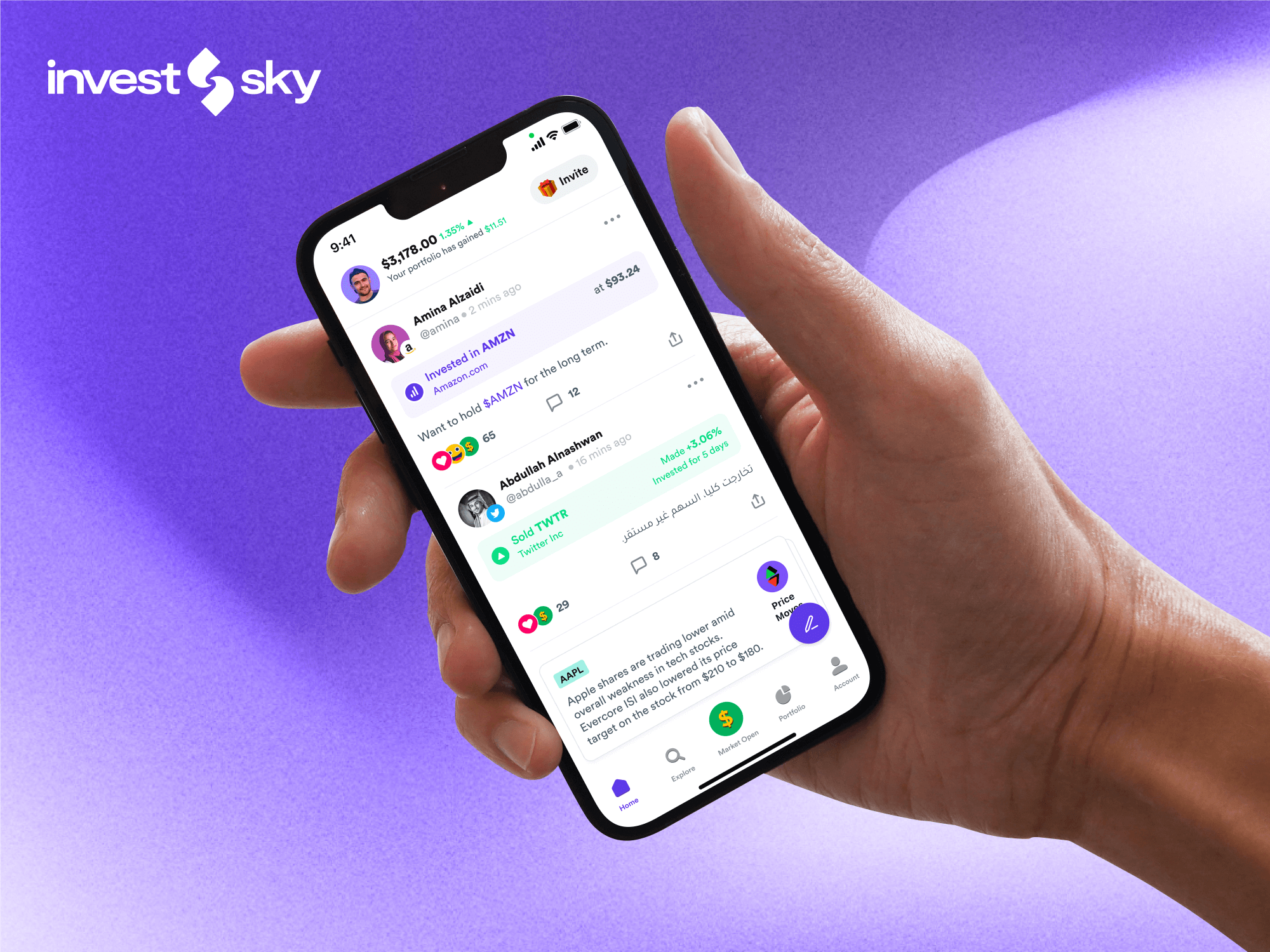 InvestSky's Mission
InvestSky, headquartered in Dubai, UAE, is on a mission to launch MENA's first social investing platform by providing intelligent and simplified access to the global stock market to underserved retail investors in core and frontier markets across the region.
The company aims to expand to the entire Gulf Cooperation Council (GCC) region while continually enhancing the platform's regions to enable users to access the tools and information they need.
InvestSky's Key Features
Trade over 5000+ US stocks and ETFs starting from $1 on a commission-free basis with no hidden fees.
Build a portfolio, craft watchlists, and experiment to make your own investment story.
Unlock advanced tools to gain insights.
Join a powerful social investor community, exchange ideas, and learn how others invest.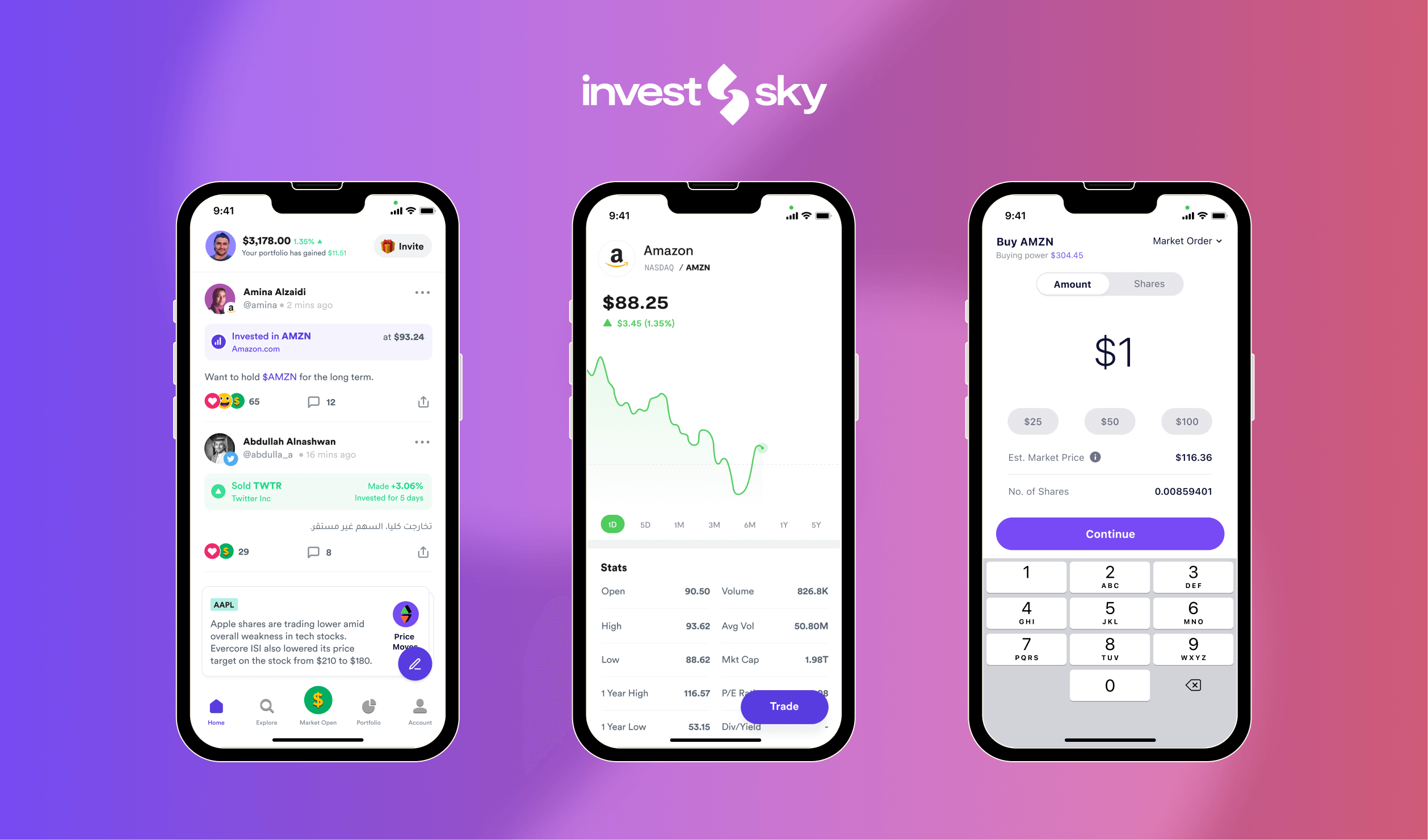 InvestSky Partners with Alpaca
InvestSky leverages Alpaca Broker API suite of brokerage, custody, and post-trade solutions to offer seamless onboarding, trading, and investing to retail investors in the UAE. InvestSky chose Alpaca due to its ability to provide an unparalleled brokerage as a service platform.

About Alpaca
Alpaca is a developer-first embedded financial technologies platform that's raised over $100m in funding. Alpaca offers crypto and stock trading, real-time market data, and end-to-end brokerage infrastructure through modern APIs. Alpaca is backed by top investors in the industry globally, including Portage Ventures, Spark Capital, Social Leverage, Tribe Capital, Horizons Ventures, Unbound, Eldridge, Positive Sum, Elefund, and Y Combinator. To learn more about Alpaca, please visit https://alpaca.markets.

To partner with Alpaca, please reach out to us at [email protected] or fill out our Contact Sales form by clicking here
---
Alpaca and InvestSky are not affiliated and neither are responsible for the liabilities of the other.

The content of this article is for general information purposes only. Alpaca does not recommend any specific investments, cryptocurrencies  or investment strategies.
Securities brokerage services are provided by Alpaca Securities LLC ("Alpaca Securities"), member FINRA/SIPC, a wholly-owned subsidiary of AlpacaDB, Inc. Technology and services are offered by AlpacaDB, Inc.
Cryptocurrency services are made available by Alpaca Crypto LLC ("Alpaca Crypto"), a FinCEN registered money services business (NMLS # 2160858), and a wholly-owned subsidiary of AlpacaDB, Inc. Alpaca Crypto is not a member of SIPC or FINRA. Cryptocurrencies are not stocks and your cryptocurrency investments are not protected by either FDIC or SIPC. Please see the Disclosure Library for more information.

This is not an offer, solicitation of an offer, or advice to buy or sell securities or cryptocurrencies, or open a brokerage account or cryptocurrency account in any jurisdiction where Alpaca Securities or Alpaca Crypto respectively, are not registered or licensed, as applicable.