Woodstock is Japan's very first social US stock trading app that offers its end-users the opportunity to invest in the US stock market for as little as 1,000 yen. Japanese investors can easily buy and sell from over 500 US stocks and ETFs, such as Tesla, Netflix, Google, Apple, and more, using only the Japanese yen. Furthermore, the app has enhanced Twitter-like interactive functionality to enable beginner investors to learn from the community, connect with friends, and share their investment portfolios.

About Woodstock
Woodstock was established in 2021 by Brian Yun, Daisuke Kawamoto, and Min Ju, who discovered how inexperienced Japanese investors were often intimidated by a lack of knowledge of the financial markets and discouraged from stock investing due to complicated brokerage services. Woodstock lowers the barrier to entry for Japanese investors into the stock market by combining stock investing and interactive social network experiences.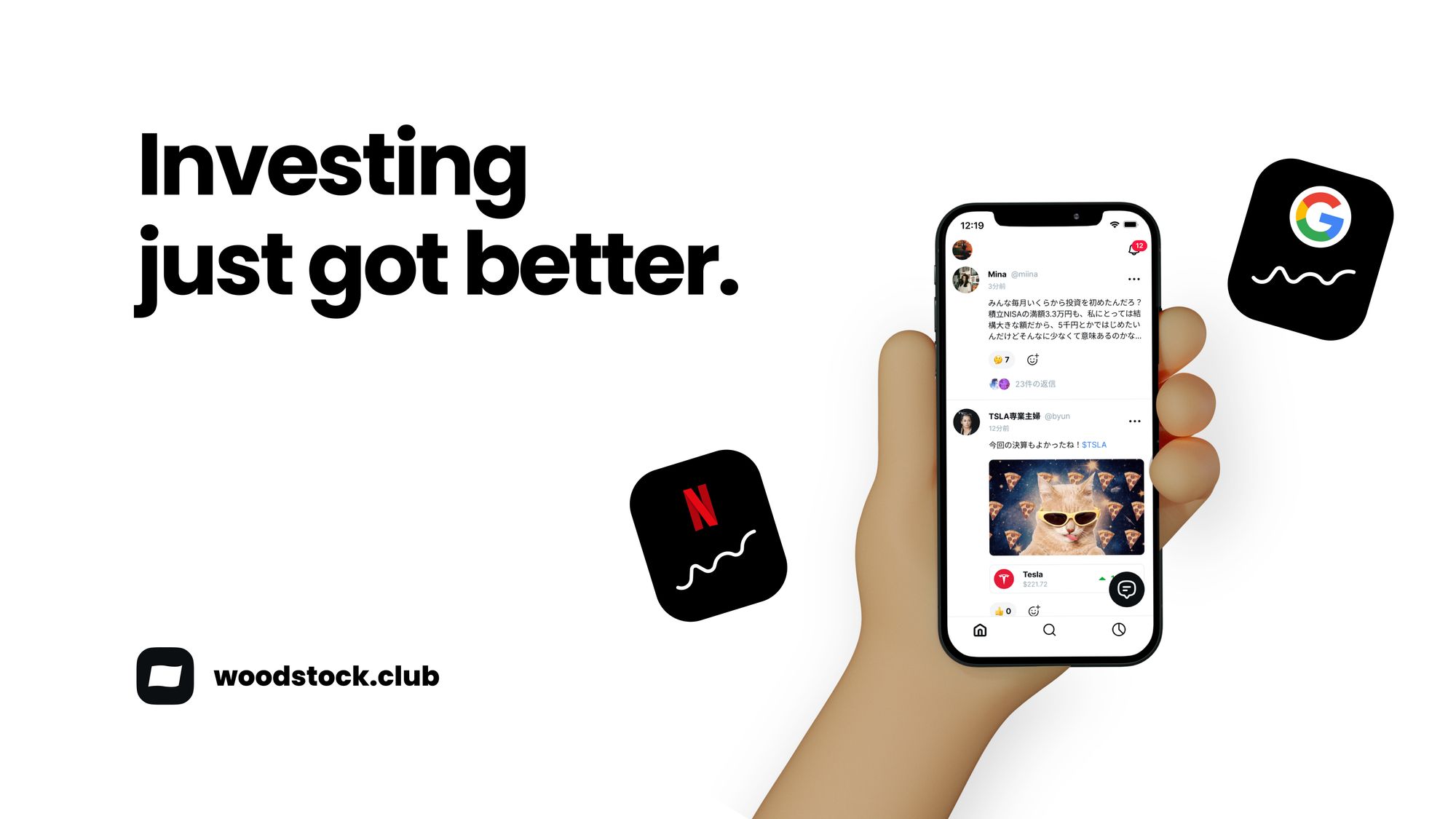 Woodstock's Mission
Woodstock, headquartered in Tokyo, Japan, aims to empower the next generation of investors to create a better financial future by providing a safe environment that encourages asset-building and where they can learn and increase their knowledge about the financial markets.
The company's core values and principles are:
We are customer-obsessed: Woodstock is committed to delivering their end-customers the best trading and investing experiences.

We do the right thing:  Woodstock does the right thing because customers entrust them with their finances, and they understand their responsibility for reshaping how people invest and build long-term wealth.

We celebrate differences: Woodstock team members from different countries, cultures, and backgrounds. Their differences make the team stronger as they integrate various ideas into the product. Furthermore, they proactively seek and celebrate different perspectives.

Woodstock's Key Features
Access more than 500 US stocks and ETFs.
Invest in financial markets with as little as 1,000 yen in local currency.
Share your investment portfolio and top investing picks with friends.
Learn investing tips and tools from the community.
Discover the latest news and trends to stay up-to-date.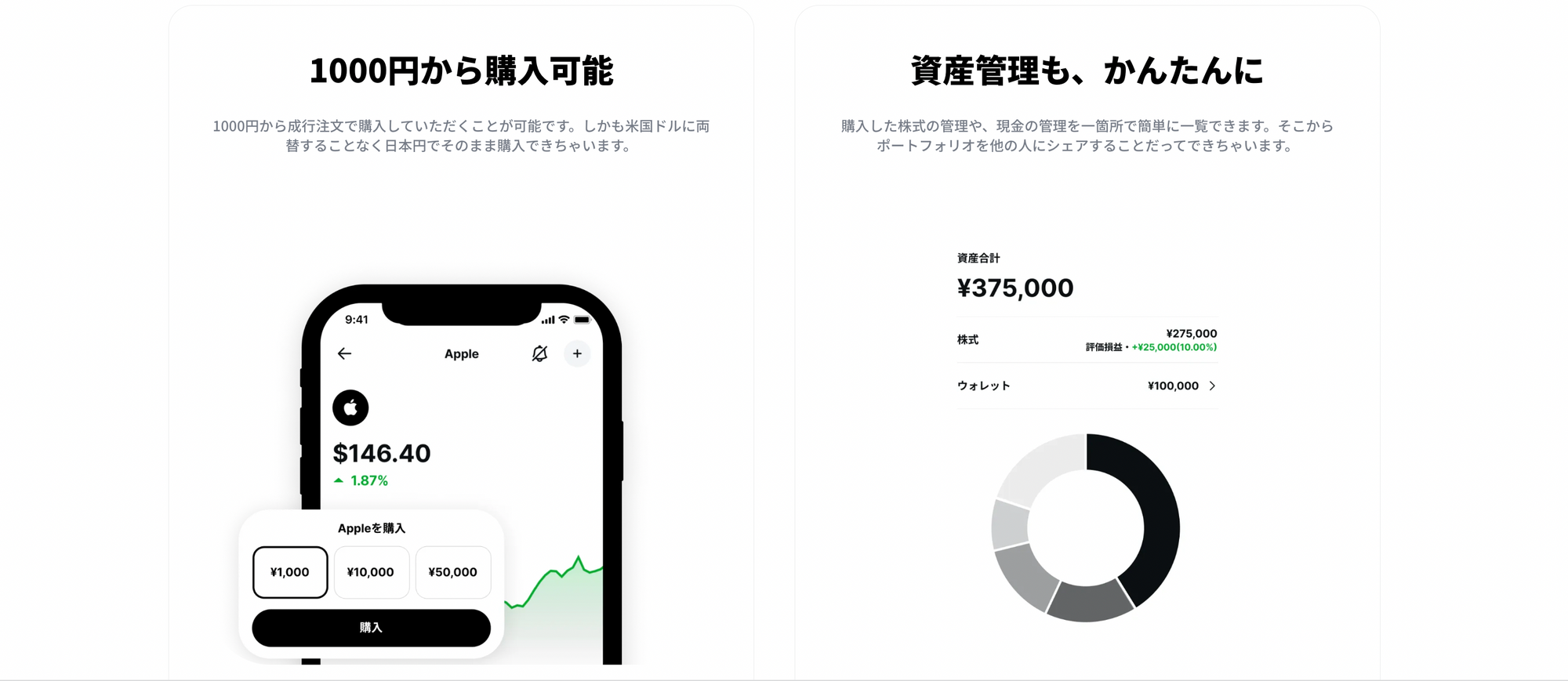 Woodstock Partners with Alpaca
Woodstock is the first partner launched in Japan after Alpaca acquired a Japan FSA-approved broker-dealer and the very first platform offering JPY-based US stock investing experience by leveraging Alpaca's Local Currency Trading API.

About Alpaca
Alpaca is a developer-first embedded financial technologies platform that's raised over $100m in funding. Alpaca offers crypto and stock trading, real-time market data, and end-to-end brokerage infrastructure through modern APIs. Alpaca is backed by top investors in the industry globally, including Portage Ventures, Spark Capital, Social Leverage, Tribe Capital, Horizons Ventures, Unbound, Eldridge, Positive Sum, Elefund, and Y Combinator. To learn more about Alpaca, please visit https://alpaca.markets.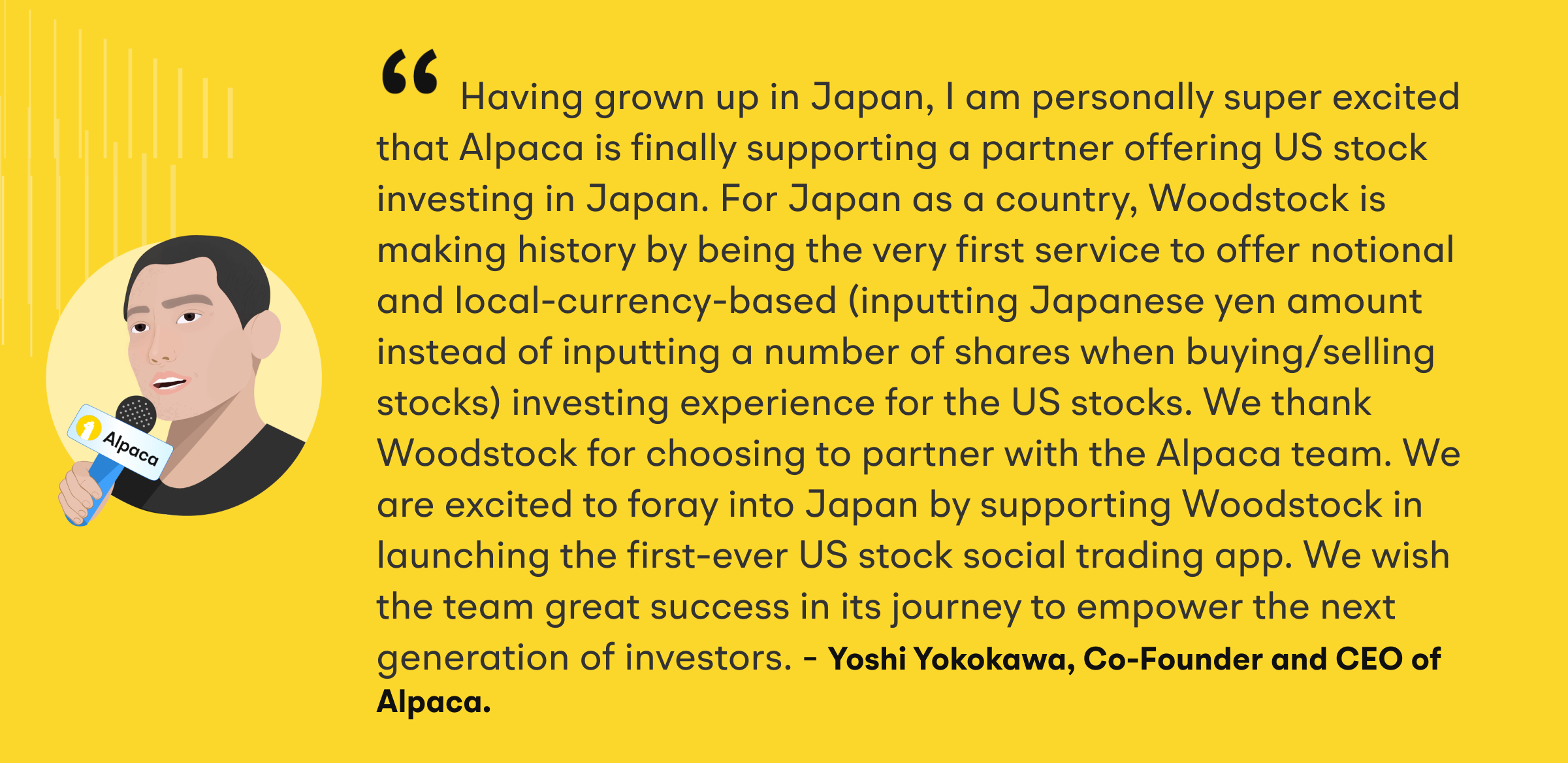 All views and opinions expressed by the guest speakers are solely their views and opinions and do not reflect or represent the views and opinions of Alpaca Securities LLC, Alpaca Crypto LLC, AlpacaJapan, and AlpacaDB. The guest speakers' opinions are based on information they consider reliable and therefore Alpaca Securities LLC, Alpaca Crypto LLC, AlpacaJapan, and AlpacaDB do not warrant its completeness, accuracy and it should not be relied upon as such.
The content is for general informational purposes only. Alpaca Securities LLC, Alpaca Crypto LLC and AlpacaJapan do not recommend any specific investments, investment strategies or cryptocurrencies.
---